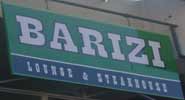 The day before yesterday, I found myself at Yaya, to meet a friend for lunch. He was coming from work and thought we would have lunch at Yaya, but without anywhere interesting to go to in the complex, I suggested we cross the road and have lunch at Barizi, the restaurant that replaced Kengele's across the street.
I had never been to Barizi previously, but I had heard about it severally and was keen to see what it had to offer. My friend and I walked into Barizi and the first thing we noticed was that the downstairs section was much warmer and more intimate than it had been before when the space was managed by Kengele's. With a partition separating the downstairs into two sections, a bar area and a lounge area, the downstairs section had a very different feel from what it was before.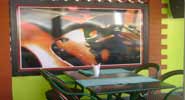 The upstairs section had remained pretty much the same. With two balcony areas and an interior section, what was most noticeably different was the interior section that now had booth-like chairs that seemed more comfortable and inviting. That is where my friend and I sat to have lunch.
I can't remember much about the menu, thought I remember it being simple and fairly standard. My friend and I ordered two meals to share – a double cheeseburger with fries, and the lunch special, a steak. Both of us have healthy appetites so we had no doubt that we would be able to finish the food that we ordered. Boy, were we wrong!
As we waited for our meal to arrive, we were offered some soup to start with. Apparently, this is standard lunch procedure at Barizi. All meals are accompanied by a soup and unlimited salad from the salad bar. The soup we had was a vegetable consommé, which was very light and brothy and had diced vegetables. This soup was the perfect starter soup because it was very fresh and not heavy at all.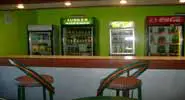 We were then offered salad from the salad bar. Although the salad bar was not very extensive, each salad was interesting and tasty. I love salad that contains fruit as well as vegetables. Barizi served quite a few of those. To my great pleasure, these salads were not just about lettuce leaves!
After our salad and soup, our cheeseburger finally arrived. My friend and I decided to split it in two and eat the burger first while we waited for our steak. The burger was juicy and tasty, though the patty was not as spiced as I would have liked it to be. Still, we both enjoyed the burger along with its accompanying fries. Three-quarters through our burger meal, our steak arrived. After looking at the size of it, my friend and I tasted the accompanying Lyonnaise potatoes and then asked for the rest to be packed. Given the portion size of our entrees, there was no way we were going to eat the steak too!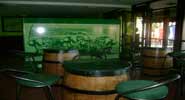 All together, with three sodas, our bill came to Ksh. 1100. Individually, our very filling lunch cost us about Ksh.550 per person, which is a great price for so hearty a meal. Although this may not be the kind of lunch that you would want to eat every day during the workweek, from time to time, eating lunch at Barizi would be a good solid treat.
Have you ever been to Barizi for lunch, dinner, or drinks? I recommend it highly for lunch, especially if that lunch is about socializing and not just about nourishing the body – the food is good, the portions hearty, and the location unbeatable. I hope you do get a chance to eat there soon. When you do, please let me know what you think. I believe you will be pleasantly surprised.
Happy Feasting,
Biche
P.S. To be sure not to miss future posts on ChickAboutTown, sign up to receive posts directly by email or subscribe to ChickAboutTown in a reader.