Casablanca can refer to a number of establishments in Nairobi: one is a very highly rated, super-well-priced homestay in the heart of Kilimani, less than a kilometer away from Yaya Centre, another is a popular chichi lounge bar/nightclub in the same area.
To find out more about the homestay, click here. For the lounge bar/nightclub, click here.
Casablanca to Nairobi
Are you interested in knowing more about travel between Casablanca, Morocco and Nairobi, Kenya? If so, here is what I can tell you…
There are a number of airlines that operate flights between Casablanca and Nairobi, most notably:
The non-stop flying time between these two cities is approximately 7 hours and 45 minutes.
Casablanca Club
Casablanca. If you are up and about on the Nairobi social scene, then you probably already have an opinion about Casablanca. What is your opinion? Is it positive or negative?
I can't quite decide myself, which is why I resort to asking you first.
In this post, I will do my best to tell you what I can about Casablanca, then you'll have to judge for yourself.
What and Where Is Casablanca, Nairobi?
Casablanca is a lounge bar/nightclub (do you think that is an apt description?), located in Kilimani on Chaka Road, off its intersection with Lenana Road.
Located in the same complex as my favorite Italian restaurant in Nairobi, Osteria del Chianti, Casablanca was all the rage when it first opened its doors about a decade ago.
At the time, it was a member's only (or so I was told) up-market establishment known for its great decor, swanky crowd, and interesting—though expensive—cocktails.
I first heard about Casablanca from a friend who lives in that neighborhood. She thought the establishment beautiful and all of a sudden seemed to frequent nowhere else.
My friend's description and enthusiasm about Casablanca sparked mine too, though I was a bit weary of the establishment because it seemed to me as place that was more interested in creating an air of exclusivity than focused on offering excellent service.
Although, I resisted it at first, I eventually found myself at Casablanca to celebrate this same friend's birthday the following year.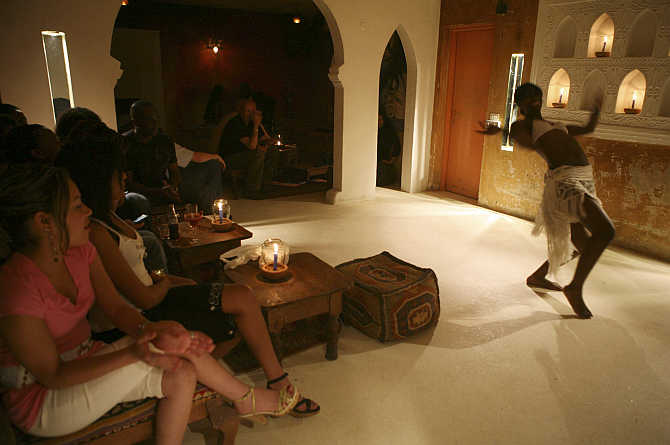 The Decor at Casablanca
I loved the decor at Casablanca!
The proprietors of the establishment have done everything in their power to truly make Casablanca feel like an Arabian hideout located somewhere very far from Nairobi.
Everything from the chairs to the white washed walls and hookah pipes serve to set the mood at Casablanca.
Not only did I find the decor amazing, but so too were the drinks. Casablanca makes the best Margaritas I have had outside North America.
I had already heard at this point that cocktails at Casablanca cost 500 Ksh a glass. I wasn't sure that they could pull off cocktails worth that price, but I was wrong.
The cocktails at Casablanca are some of the best that I have had in Nairobi. Though they are expensive, they do offer some sort of value for money.
I visited Casablanca a number of times after that first visit, but never became a frequent visitor. I found Casablanca expensive and the crowd a little pretentious. Perhaps it had something to do with the nature of the activities that took place at Casablanca.
Through the grapevine, I quickly figured out that Casablanca was a place where women took men to "spend their money" or where married men took out young, single, trendy women in order to impress them.
It wasn't glaringly obvious, but it's something that I always caught a hint of and that I was a little uncomfortable with.
Fast forward about a year.
One Saturday, after a pleasant evening spent dancing salsa at the Nairobi Serena Hotel, a friend suggested we go to Casablanca to meet another friend who happened to be there.
Since I was still in the mood to socialize, I tagged along with him to have "one drink for the road".
Casablanca Ignited
This time, Casablanca was completely different!
The establishment was teeming with people. The music played so loud that I could hear it outside the gate.
Once inside, we saw a large bonfire burning outside and the ground covered with sand.
Casablanca, it seemed, had turned into a nightclub.
One drink for the road, at close to 1 a.m., became a night of dancing and socializing that did not end until 5:30 a.m.
A DJ played outstanding music (with a heavy bias towards techno) all through the night. That's what Saturdays are like at Casablanca nowadays—full of excitement, great music, and a lot of fun.
The Crowd at Casablanca Nairobi
This commentary would not be complete if I did not take some time to discuss the kind of crowd that frequents Casablanca on the weekends.
For starters, it's a crowd that is racially diverse. If that's something you enjoy, Casablanca might be a place you want to check out.
Unfortunately (or fortunately, depending on what tickles your fancy), within this racial diversity, you find a lot of black African women who frequent Casablanca with the hope of bagging Caucasian partners for financial gain.
Sometimes, this is exhibited clearly in the form of prostitution, but it also takes on subtler forms.
This phenomenon creates a somewhat sleazy and shady feel to Casablanca.
Over the years, Casablanca has gone from having no cover charge, to having a cover charge, to again not having one.
When they did charge an entrance fee, the fee was 300 Ksh (if I remember correctly).
Today, I am not sure whether or not Casablanca charges a cover charge on the weekends. (Might any of you, my readers, know?)
That's what I have to say about Casablanca.
In this post, I've told you both good things and not-so-good things about the establishment.
If you've never been, check it out and tell me what you think. If you have been before, I'm keen to hear what you have to say about Casablanca.
Whatever the case, if you do make it out there, I wish you a lot of fun and enjoyment.
Until the next time,
Biche
P. S. To be sure not to miss future posts on ChickAboutTown, sign up to receive posts directly by email.
Photo Credits: glaydensworldtour.blogspot.com; presstigeprinting.com; osteriadelchianti.com