As a child, growing up in the Côte d'Ivoire, I found myself at the Félix Houphouët-Boigny International Airport quite regularly.
Often, it would be to send off or welcome my Dad to or from one of his many work trips, but at other times, it would be because I, some other member of my family, and/or one of our many visiting friends and relatives were headed to or from yet another destination by air.
Whatever the case, it was during these frequent visits to this airport that I first became aware of the item that I would like to tell you about today.
In the eighties and nineties at the airport in Port-Bouët, it was common place to see travelers laying around on the floor, in the nooks and crannies of the airport, surrounded by other travelers and loads of luggage.
It was obvious that these travelers had been or would be at the airport for more than just a couple of hours, and their luggage was unlike anything I was accustomed to associating with air travel.
Instead of the usual suitcases, these travelers carried huge woven bags, made of plastic, that were usually blue (or black), red, and white in color – the bags were striped.
I was not sure what these travelers carried in these bags, but because they were similar to the bags that I often saw in markets used by vendors to store their merchandise, I assumed these travelers were merchants and that these bags contained their wares.
READ ALSO: How to Make Your Mattress More Cool on Hot Nights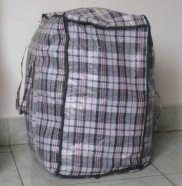 Fast forward to 2007. At this time, a good friend of mine was moving back to Nairobi after spending some years in Kampala. She was making this transition on her own (as opposed to being sponsored by an organization) and was doing it on rather short notice. In a week's time, my friend had wrapped up her life in Uganda, sold the majority of her household goods, and appeared at my doorstep with two suitcases and a number of these plastic woven bags in tow. This was the first time in a long time that I was seeing these bags again, and quite frankly, I thought this was an ingenious way for my friend to have packed her belongings during her move.
This is why, a couple of months later, as I embarked on a transition of my own, I called up my friend to inquire where she had purchased these bags. Unfortunately, she told me she had bought the bags in Kampala and was not sure where I could find similar bags in Nairobi. Not to be discouraged, I set out on a mission to find bags like these in a city that I felt I knew fairly well.
I didn't have to search very long. After a short while, I
found what I was looking for in two very disparate locations: I found the bags both at Nakumatt Westgate, upstairs in the luggage section, and at Kibera market for 109 KSh and 120 KSh, respectively (no comments about my lack of bargaining skills! :-))
The bags came in several colors (which was great for organization) and in all sizes, from very small to extremely large. From experience, I have since learned that although the larger bags pack greater volumes, these volumes can add up to a weight that causes the bags to tear when being carried. Unless you are dealing with stuff that is very light, I recommend the use of the medium-sized bags which still allow for the packing of substantial volume, while helping to limit the bag's total weight.
After selling my furniture and most of my household goods, I packed the rest of my life into a suitcase and six of these medium-sized bags. The bags, just like those my friend had used during her move, served me well during my transition and continue to do so to-date. Although a few of them gave way, under the weight of heavy things such as my great collection of books :-), I use the rest of them, today, to store or transport bulky items such as duvets, pillows, or my mother's collection of West African mudcloth.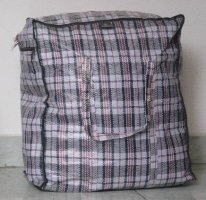 I was very pleased when I discovered the handiness of these woven plastic bags, both for storage and for moving things. If you are in the need of an efficient, neat, and inexpensive way to store or move items, these bags might be just what you are looking for. I've shared with you where I managed to get them in Nairobi and at what price, but I am pretty sure you can find them elsewhere in East Africa – all you need to do is look.
With that said, it's time for me to sign off. I hope this information serves you in some way. If it does, please let me know all about it.
Until the next time,
Biche
Photo Credit: AliExpress.com