Update: The Kilimanjaro Hotel Kempinski is now Hyatt Regency Dar es Salaam, The Kilimanjaro (book your stay there here :

)
The Palm Restaurant
Kilimanjaro Hotel Kempinski
Tel: +255-22-2131111
Of all the hotels in the world, one of my current favorites is the Kilimanjaro Hotel Kempinski in Dar-es-Salaam.
No matter how many times I go there, I never tire of its luxurious elegance.
I first visited The Kilimanjaro Hotel Kempinski in March 2007, though I hear it was first re-opened as a Kempinski Hotel in August 2005.
Since my first visit to the hotel, I have been on a delightful journey of discovery of the Kilimanjaro Hotel Kempinski that is still far from over.
So far, I absolutely love their Level 8 Summit Bar and their South East Asian restaurant, aptly named The Oriental Restaurant.
This post, though, is about neither of these gems.
Rather, today I would like to tell you about The Palm Restaurant, their ground floor restaurant, which was the first eatery that I experienced at Kilimanjaro Hotel Kempinski (book your stay there now

).
READ ALSO: 24 Sunset-, Lake- and Mount Kilimanjaro Pictures
I first went to The Palm Restaurant on a night where my company and I could not decide where else to have dinner.
We had started our evening with drinks at Level 8 but couldn't think of where we wanted to have our evening meal.
We decided we'd keep it simple, yet adventurous, by trying out one of the hotel's restaurants.
Since a member of our party was not a big fan of Asian food, the decision was easy to make: we'd try the ground floor restaurant instead.
Like everything else at The Kilimanjaro, The Palm Restaurant, is beautifully put together with a lot of clean

lines and understated elegance.
The table centerpiece, a single red anthurium in a glass filled with water and stone, had me marveling at the simple elegance of the restaurant's décor. (Speaking of décor, I am not sure that the glass enclosed kitchen works for The Palm Restaurant. I found that their kitchen was not an interesting sight, and on the night that I was there, wasn't particularly clean. I could have done without that visual. :-)) .
The service at The Palm Restaurant (again like everything else at The Kilimanjaro) was outstanding.
The waiters were friendly, professional, and knowledgeable about what the restaurant had to offer in terms of food and drink. (I hate to say it, but in Tanzania that's something you can rarely take for granted.)
The food at The Palm Restaurant was good but not outstanding (yet it was quite pricey).
Two other members of my party and I all had The Palm Lobster (Price: 22,000 Tsh) while the other member of our party had a vegetarian Dutch Gratin (very, very good!).
For the most part, we all had the same thing because the menu at The Palm Restaurant didn't offer a wide variety.
The only other dish that tempted me was the New Zealand Lamb Chops, which also sold at the same price.
I liked the lobster but didn't think it was fantastic.
The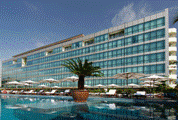 others that had the same dish thought a lot more of it than I did.
Honestly, I was taken in more by the vegetarian Dutch Gratin (which was outstanding!) than I was by the lobster.
Overall, I thought The Palm Restaurant was an OK—though not great—restaurant.
I definitely wouldn't go there again when I have the option of going to The Oriental Restaurant, which is located in the same building (now, there's a restaurant I'll never get enough of!).
Still, until I went there, I was very curious about it, so I thought you might be too.
Have you ever visited The Palm Restaurant before? What do you think about it? Was I unfair in my judgment of The Palm Restaurant?
As usual, I look forward to hearing what you have to say.
Biche
P.S. To be sure not to miss future posts on ChickAboutTown, sign up to receive posts directly by email.
Photo Credit: TheGoldClub.Info