This post is about the SEACOM cable and its effect on internet speeds and prices in East Africa. In this post, you'll also find a SEACOM cable map.
Some would be embarrassed to admit it, but I am going to give it to you straight up. I don't watch, listen to, or read the news.
It's not that I like to be out of the loop; rather, this is a defense mechanism that I developed after first being exposed to the gruesome, horrific, doomsday nature of news in Kenya.
After spending many troubled nights feeling like the world was a horrible place, nights on which coincidentally I had watched the evening news, I put two-and-two together and decided to forgo having my finger on the pulse of current events, in favor of being a calmer, happier, more positive Nairobi resident.
How do I keep abreast of what's going on in the world, you might ask?
My response to you would be: if something is really important and worth knowing about, then people will be talking (and blogging) about it. Eventually, I'll find out somehow.
Take, for instance, the advent of the SEACOM cable to East Africa.
Whispers of the SEACOM Cable
I first caught wind that fiber would be landing in East Africa through local tech blogs, such as Moses Kemibaro's blog (an excellent tech blog, by the way!).
With bloggers being a more technically inclined lot than most, the East African blogosphere was awash with posts relating to this much awaited event.
Personally, although I was happy to hear that I had reason to hope for faster, cheaper Internet connectivity in the near future, I had my doubts about how long it would take for the expected benefits of the SEACOM cable to trickle down to the everyday Internet user.
After living in East Africa for 9 years, I wasn't holding my breath.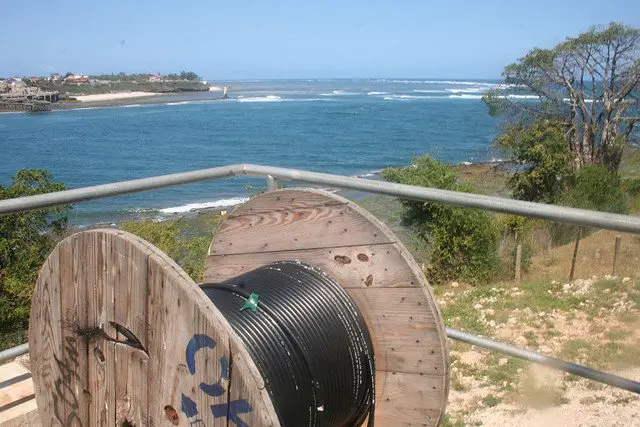 SEACOM Finally Arrives
On July 23, 2009, marked by great fanfare across East and Southern Africa, the first fiber optic submarine cable system to serve Africa's eastern seaboard, SEACOM, went live.
A 15,000 km cable network connecting France, Egypt, Djibouti, Kenya, Tanzania, Madagascar, Mozambique, South Africa, and India, the SEACOM cable system seemed to many "the dawn of a new era for communications between the continent and the rest of the world" given its designed capacity of 1.28 terabits per second (see the SEACOM cable map below).
SEACOM Cable Map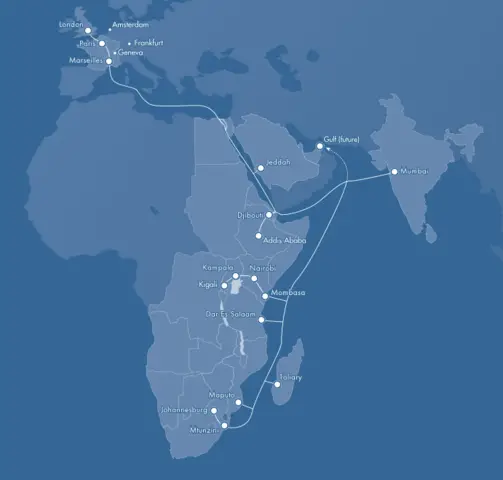 READ ALSO: Botswana: A Guide to Gaborone, the Capital of Botswana
SEACOM's launch date came and went without much notice from me, since my Tanzania Telecommunications Ltd. (TTCL) home Internet connection seemed the same as always. (In hindsight, though, I should be truthful and say it became a little faster shortly after this).
Whatever the case, as I said earlier, I wasn't holding my breath anyway.
Trickling Down to the End User
Then, on October 3, 2009, I woke up to find a press release in a local newspaper. Well, I didn't find it, but someone pointed it out to me. 🙂
The press release said that my ISP was finally rolling out the benefits of the SEACOM cable on to its customers.
Wow, so soon? I had to find out more.
Upon contacting my ISP, I found out that the cost of my Internet service had instantly dropped by 20%.
Although this was a good start, my internet connection was still pricey.
What I wanted was a fast service that granted me unlimited Internet usage for an affordable monthly flat fee.
The best that my ISP could offer was either a very fast, less expensive (than I was already paying), pay-per-use package, or a slower, unlimited-usage, flat-fee monthly package that would cost me about a third of my household's cumulative Internet expenditure.
The members of my household and I opted to try out TTCL's unlimited broadband service.
TTCL's Unlimited Broadband Service
At first, the new slower speed of my Internet connection drove me crazy.
For quite a while, I threatened to anyone who was willing to listen that I would revert to the older, more expensive—though faster—service that I'd been using.
After dusting off my tabbed browsing skills, though, I learned to deal with the slower speed and started to enjoy the fact that I could spend as much time as I wanted on the Internet, whenever I wanted, without having to think about how data-intensive some online activities can be (think: Facebook, video, and downloading applications).
Today, although I wish my ISP would offer me a faster monthly unlimited package, I am generally happier with my Internet service now than I was before the landing of the SEACOM cable.
READ ALSO: 10 Most Popular Online Courses To Pursue In Sub-Saharan Africa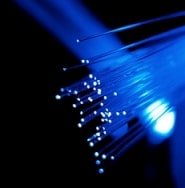 How about you? How has the advent of the SEACOM cable to East Africa changed your Internet experience?
Are you happy about these changes? Do they match the expectations you had before the SEACOM cable arrived? (On that note, I've noticed a lot more video on East African websites, so I know at least a few people must really be enjoying the new fiber experience. 🙂 )
I look forward to hearing what you have to say.
If you enjoyed reading this post, subscribe to ChickAboutTown to be sure not to miss future posts. Sign up to receive posts directly by email here.
That's all from me today.
Until the next time,
Biche
Photo Credits: linx.net; cellanr