This post is not about Ngong town escorts, but about interesting adventures close to Ngong Road.
Hmmm…I am not quite sure how to begin this post.
Oh well, I guess there's no better place to begin than at the beginning, so here goes…
A while back, on a busy Tuesday, as I was going about doing all the things I needed to get done that day, I received a phone call from a friend.
She was having a very bad day at work and asked me if I would join her for a drink later in the evening (which ended up being at Studio Bar in Dagoretti Corner).
I did want to be there for my friend. Unfortunately, I wasn't sure I'd be able to make it. I asked her to check in with me a little later in the day.
My friend did check in with me later in the day, just as I was finishing up the last task on my day's to-do-list.
She told me that she was at Studio Bar, a bar at Dagoretti Corner.
Gladly, I let her know that I was almost through and would join her shortly.
Getting Directions
Since I had never heard of the joint, I asked her for directions.
She told me: Get to Dagoretti Corner, and take the road that leads to Kikuyu (instead of continuing on Ngong Road). Take the first left after the gas station, then ask anyone for directions to Studio Bar.
She said everyone in the area would know where it was.
To be honest, I was pretty excited about hanging out at Dagoretti Corner.
Ever since I first moved to Nairobi, I had been dying to find out what drew such crowds to the area.
Whenever I would pass Dagoretti Corner, on my way to or from home, and would see a multitude of cars parked in front of the many makuti bars, I would make a mental note to check it out some time.
Many years later, finally, my opportunity had come.
Since my friend told me that everyone in the area would be able to tell me how to get to Studio Bar, I knew I was going to be going to one of the better joints in the area.
After all, why else would everyone know this particular bar?
Finding Studio Bar
Off I headed to Dagoretti Corner, just as my friend had directed.
The first person from whom I asked directions to Studio Bar sent me on a wild goose chase. Nonetheless, I managed to find the bar on my second try.
Hmmm….my first view of the bar from the parking lot had me a little apprehensive.
Studio Bar looked just a little shady to me.
Still, since I know that some of the shadiest hangs lead to the greatest fun, I waited to first get into the bar to really form an opinion.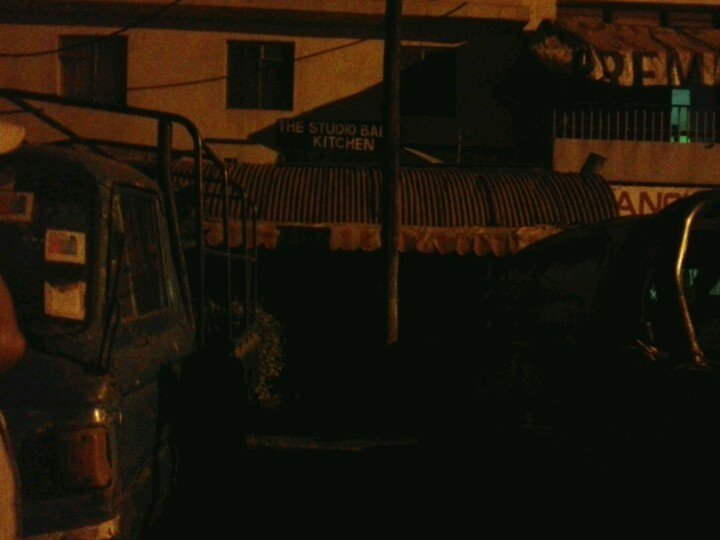 Inside Studio Bar (and Yes, I Think There Were Some Ngong Town Escorts)
I guess this is where you wait for me to say that once I got inside, the bar was great and that I had a wonderful time.
Not this time! Studio Bar was shady!
There were shady people (yes, there were probably a couple of Ngong town escorts there too).
The set-up was shady.
Even the drinks we drank were shady!
To its credit, it had great music playing that night, which is how I made it through the night. I got on the dance floor and just did my thang.
But honestly, this is not a place I have any intention of visiting again any time soon. (Sorry M, if you are reading this post. :-))
Whatever the case, dear reader, this in no way ends my exploration of hanging out at Dagoretti Corner.
Maybe you might be able to advise me more successfully.
What good joints do you recommend at Dagoretti Corner?
As you recommend them, please tell me what you find so great about the particular joints you mention.
For now, just know: if you've never been to Studio Bar, then you are not missing out on a lot.
When I do finally find a great joint in Dagoretti Corner, rest assured: you'll be among the first to know here on Chick About Town.
I wish you a great end to your weekend.
Ngong Town Escorts
If you came to this post looking for Ngong town escorts, then you might also like Durex Play 2-in-1 Massage Gel.
Toodles,
Biche
P. S. To be sure not to miss future posts on Chick About Town, sign up to receive posts directly by email.
Photo Credit: Pinterest, FourSquare, Kimutai C.