This post is about Mwanza, Tanzania's second largest city. Before I get around to giving you some facts about Mwanza city and region, though, here is a short introductory video put together by Tanzania Tourist Board about Mwanza. Enjoy!
Fast Facts About Mwanza, Tanzania (Mwanza Region)
Mwanza Region is one of Tanzania's 31 administrative regions.
Postcode: 33000
Regional capital: Mwanza city
Lake Victoria borders Mwanza Region to the north.
Current regional commissioner: John Mongella
Mwanza Region is subdivided into 7 administrative districts: Ilemela, Kwimba, Magu, Misungwi, Nyamagana, Sengerema, Ukerewe.
Population of Mwanza Region: ~ 3 million
Area of Mwanza Region: ~20,000 square kilometers
Ethnic Groups of Mwanza Region: Wasukuma, Wakerewe, Wakara, Wazinza
Airport: Mwanza Airport
READ ALSO: 50 Most Influential Young Tanzanians: Vote Now!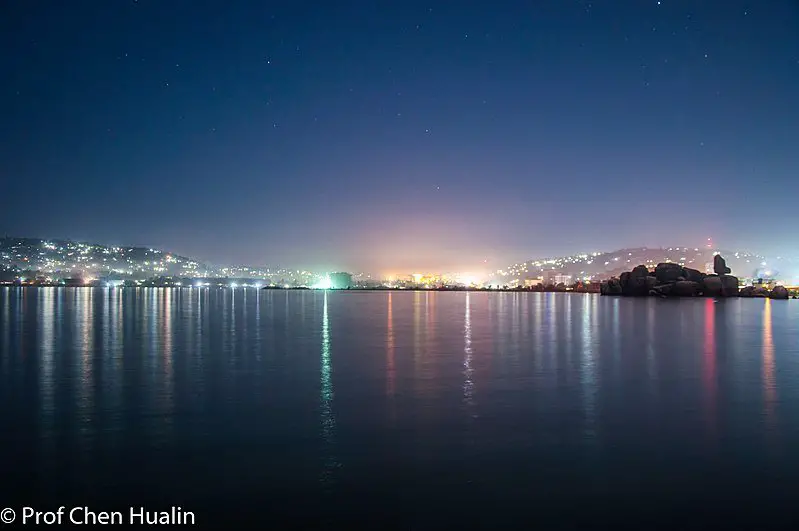 Mwanza Flights
The city of Mwanza is served by Mwanza International Airport (airport code: MWZ).
If you would like to check out the price and/or availability of flights from your city to Mwanza, simply enter your intended travel dates below, and see what great flight deals you can get through JetRadar.
READ ALSO: Where to Stay When You Visit Mwanza, Tanzania
---
If you are anything like I used to be, you might think that Mwanza, Tanzania is a small, sleepy, upcountry town—disguised as a city—with few interesting things to do in and around it.
After spending a few days in Tanzania's second largest city, I've changed my mind. I now know that Mwanza city is a scenic, burgeoning, lakeside metropolis, with a selection of things to do in its vicinity. See for yourself in the video below!
Still don't believe me? Well, here's a list of seven things I enjoyed doing during my last trip to Mwanza that you can enjoy too the next time you visit!
READ ALSO: African Travel Blogs Award: Please Vote for Me
1. Take a Tour of Mwanza, Tanzania
Take a tour of Mwanza to learn more about this 125-year-old city.
Visit downtown Mwanza and/or take a tour of Capri Point Peninsula to get a feel of the city and catch a glimpse of its rich history, with its many foreign influences (German, British, and Indian).
To schedule a tour, hire a local tour guide (e.g., Dullah +255-(0)769-046631) or contact any local tour operator (e.g., Serengeti Expedition).
Mwanza Tanzania Accommodation
Mwanza has a great selection of places to stay at. Some places where I have stayed and recommend in Mwanza, Tanzania are:
READ ALSO: 52 East African Pictures: Good Eats, Cityscapes, Water Environments & More
2. Visit the Sukuma Museum at the Bujora Cultural Center in Mwanza, Tanzania
Mwanza's indigenous inhabitants are the Sukuma, Tanzania's largest ethnic group.
Learn about the Sukuma by visiting the Sukuma Museum at the Bujora Cultural Centre.
There, you will see 500-year-old royal drums and learn about traditional Sukuma iron smelting.
Before you leave the Bujora Cultural Centre, be sure to watch the resident dance troupe perform.
The Sukuma are renown for their dancing and have been holding annual dance competitions for years.
Sukuma snake dancing is something I am sure you won't forget for a long time!
The Bujora Cultural Centre is located 16 km east of Mwanza city (off the Musoma Road). It can easily be accessed by public transport or by taxi.
READ ALSO: International Young Fashion Designers Showcase Tour in Dar es Salaam
3. Enjoy Mwanza City Through a Sunset Cruise on Lake Victoria
The feel of Mwanza is in large part determined by its geographic attributes: its proximity to Lake Victoria, its rolling hills, and its huge, unusual rock formations, which earn it its nickname—Rock City.
To fully appreciate the beauty and serenity of Mwanza, Tanzania take a sunset—or sunrise—boat ride on Lake Victoria.
READ ALSO: Enjoying East African Waters & Food from the Sea
To schedule a boat ride (for any time of the day), contact Hotel Tilapia's business center (price: $100 per hour for the boat—includes up to 20 people) or contact Jan, of Tunza Lodge (+255-(0)755-541078—price: for a 1-hour boat ride: 50,000 Tsh. for the first 2 people and an additional 10,000 Tsh. for every person thereafter).
READ ALSO: 19 Sky, Water, & Sunset Photos and More Taken in Dar es Salaam, Kampala, Kigali and Elsewhere
4. Discover Rubondo Island National Park
Rubondo Island National Park, the only national park on the world's largest tropical lake, is a quick 40-minute flight from Mwanza, Tanzania (it can also be accessed by road and water, but that takes much longer).
Walk through Rubondo Island's dense forest to see both indigenous and introduced species such as sitatunga, a rare marsh-dwelling antelope, and chimpanzees (needs to be arranged in advance).
Rubondo Island is also a great place for sport fishing.
Here, tilapia and Nile perch have been known to grow to over 100 kilograms!
Bird watchers can also observe over 200 species of birds breeding or simply passing through nearby Bird Island.
Auric Air flies regularly between Mwanza city and Rubondo Island.
To get to Rubondo Island National Park by road, drive 4-5 hours in the direction of Geita to Nkome, where you'll be picked up by boat for a 2-hour ride to the island OR drive 8-9 hours from Mwanza, on the highyway that leads to Biharamulo, to Muganza/Kasenda, where you can be picked up by boat for a short 30-minute ride to the island (click here for a basic map).
For more information, visit the Rubondo Island National Park website.
5. Head to Butiama to Visit Mwalimu Julius Nyerere's Home, Mausoleum, and Memorial Museum
Mwalimu Julius K. Nyerere was not only Tanzania's first president but, to some, also a world hero for social justice (so named by the president of the 63rd UN General Assembly in 2009).
Butiama, a 3-hour drive from Mwanza, Tanzania is President Nyerere's hometown.
There, you can visit the Mwalimu Julius K. Nyerere Memorial Museum, which documents the life of this great statesman from his earliest days at Tabora Boys Secondary School, through to his contribution in the fight for Tanganyika's independence, covering his 23-year presidency, and finally until his death on October 14, 1999.
His family home at Butiama, and his mausoleum, are now also open to the public.
Click here for more information on how to get to Butiama.
READ ALSO: And the Most Influential Young Tanzanian of Last Year Was…
6. See the Spectacular View from atop Balili Mountain
I tell you about this activity with particular delight.
It was one of the most enjoyable, though unexpected, things that I experienced during my trip!
In the name of full disclosure, I did not climb Balili Mountain from its base. Rather, I drove most of the way up the mountain to Balili Camp. From where, I hiked the last 15-20 minutes to the viewpoint at its summit.
The 360° view that I saw there was breathtaking!
In one direction was the Serengeti, extending as far out as the eye could see (no wonder the Maasai call it "endless plains"); in another direction was Lake Victoria, which also seemed to stretch out to infinity; and not far from both of these was Bunda town, seemingly unaware of the majesty surrounding it.
READ ALSO: Tanga, Tanzania: 10 Pictures Taken in & Around Lushoto
Balili Mountain, located right outside Bunda town, is a 2-hour drive from Mwanza city, in the direction of Butiama and Musoma. It lies only a few kilometers away from the Ndabaka gate of the Serengeti National Park.
For more information, visit the Balili Camp website, or contact Tembea Mara Visitor's Information Centre (+255-(0)714-445566), located at the foot of Balili Mountain.
7. Explore the Serengeti from Mwanza City
The Serengeti, ranked 1st among the top 10 natural travel wonders of the world, needs little introduction, but did you know that the Serengeti is only a 2-hour drive from Mwanza, Tanzania?
Visit the Serengeti as a day trip from Mwanza, or spend a few more days to take full advantage of all the national park has to offer.
For more information, visit the Serengeti National Park's official website, or contact any Mwanza tour operator (such as Serengeti Expedition).
READ ALSO: Travel Tanzania: The Ngorongoro Crater & Ngorongoro Conservation Area
BONUS 8. Visit Ukerewe Island
I list Ukerewe Island as a bonus because I have never been there myself, though I did fly over it on my way to Rubondo Island.
A reader of my blog, Martin, had this to say in a comment to this post though:
"You have forgotten about Okurewe Island! It's pretty much off the tracks from most tourist points and probably accomodates only a 2-digit number of tourists every year, but it is a very interesting and inexpensive place and you can see the beautiful island and get an impression of what rural Tansania is like. A good guide is worth every cent as you'll have problem finding anything on your own. A bike tour is much recommended. I can recommend Paschal as a tour guide (I don't know if there are other tour guides in the island. Give him a call at (+255 763 480 134)."
Coincidentally, I recently happened to communicate with this same Paschal on a totally different issue. It was he who pointed out that he was the same Paschal from Martin's comment.
So, if you are ever in or around Mwanza and are curious to learn more about Ukerewe Island, now you know how you can do that.
I am so looking forward to doing this the next time I am in the region!
What Do You Recommend People Do When They Visit Mwanza?
This is by far not an exhaustive list of all there is to do in and around Mwanza city; rather, it's simply a list of some of the things that I enjoyed doing during my last visit there.
If you know of something else that you would like to recommend to Mwanza visitors, then I'd love to hear all about it in the comment section below.
As always, I look forward to hearing from you.
Until the next time,
Biche
P.S. Subscribe to ChickAboutTown to know whenever I publish a new post. You can also follow me on Twitter or on Facebook for daily musings on living & lifestyle in East Africa. Signing up is free and easy!
Photo Credits: wanderlist.ca, Prof. Chen Hualin, Jonathan Stonehouse, SukumaMuseum.org, panoramio.com; DiscoverAfrica.com; Frank Beier