READ ALSO: 4 Best Treatment of Hair Loss That Make Things Better
Table of Contents
READ ALSO: 3 Easy Quick Braid Hairstyles
Black and Maroon Braids/Maroon and Black Braids
READ ALSO: Unraveling the Timeless Elegance of Beautiful Braided Hairstyles Cornrows 2023
READ ALSO: 7 Creative Long Hair Braids Styles
One can rock maroon hair using both maroon and black hair extensions creating a mix of the two colors.
READ ALSO: 5 Interesting Braids With Extensions Styles
Or you can choose to use maroon hair extensions alone.
READ ALSO: 4 Beautiful Hair Braiding Styles for Short Hair: Elevate Your Look!
Maroon Braids Hairstyles
READ ALSO: Elevate Your Style with Medium Knotless Braids with Color Today in 2023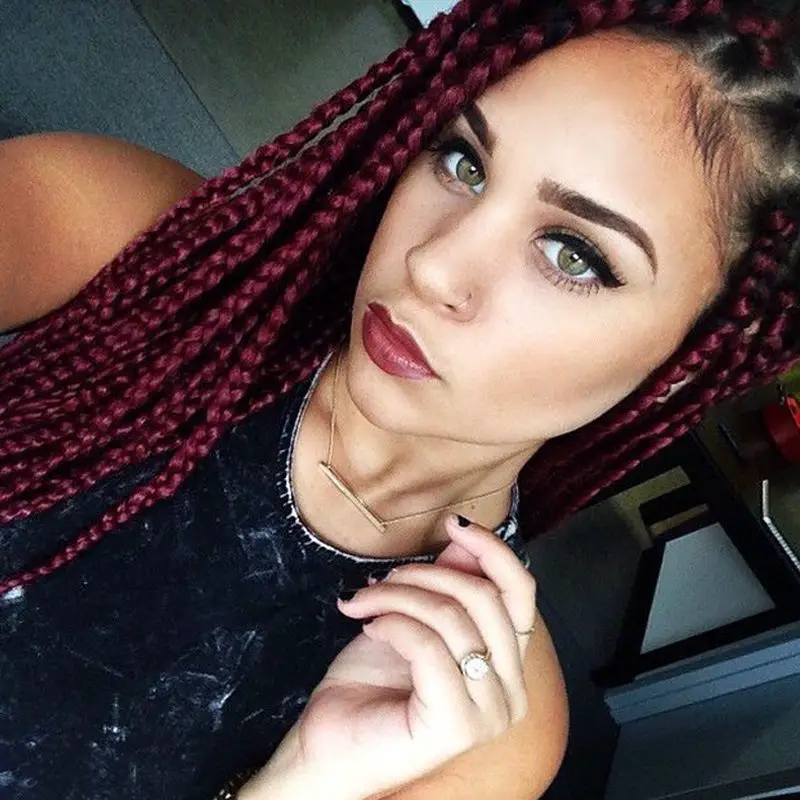 READ ALSO: 5 Useful Try on Hairstyles Apps for You to Try Today
Maroon braids may vary in length and size depending on what you want.
READ ALSO: Effortless Elegance: Mastering 3 Simple Braiding Hairstyles
For instance, some hair extensions are short or medium-length, while others are long.
READ ALSO: Rope Twist Locs & How to Twist Dreads
Short Rasta Braids/Burgundy Braids
READ ALSO: Elegant Medium Short Box Braids Today in 2023 & Beyond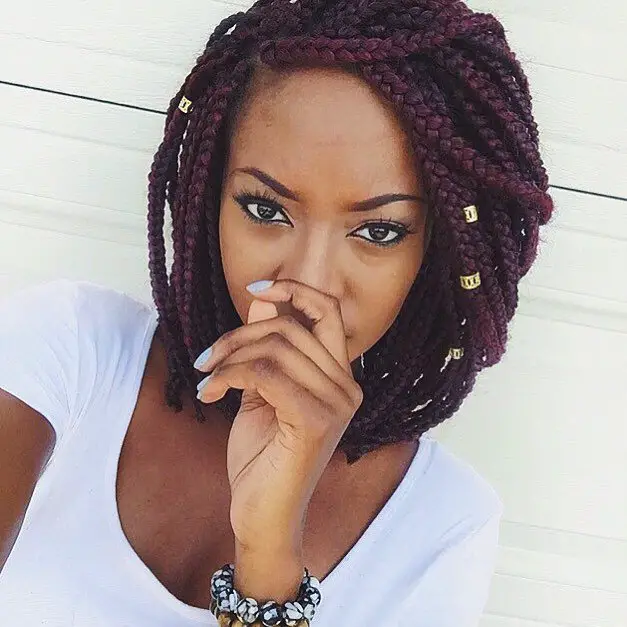 READ ALSO: 5 Beautiful Up Hairstyles Braids
Maroon Braids Number
READ ALSO: Embrace the Charm: 4 Easy Braided Hair Styles for Short Hair
Number 900 is a generally a maroon colored hair extension.
READ ALSO: 5 Interesting Different Types of Braids Styles for Black Hair
Maroon Braids on Dark Skin
READ ALSO: The Funky Cornrow Hairstyle Man Today in 2023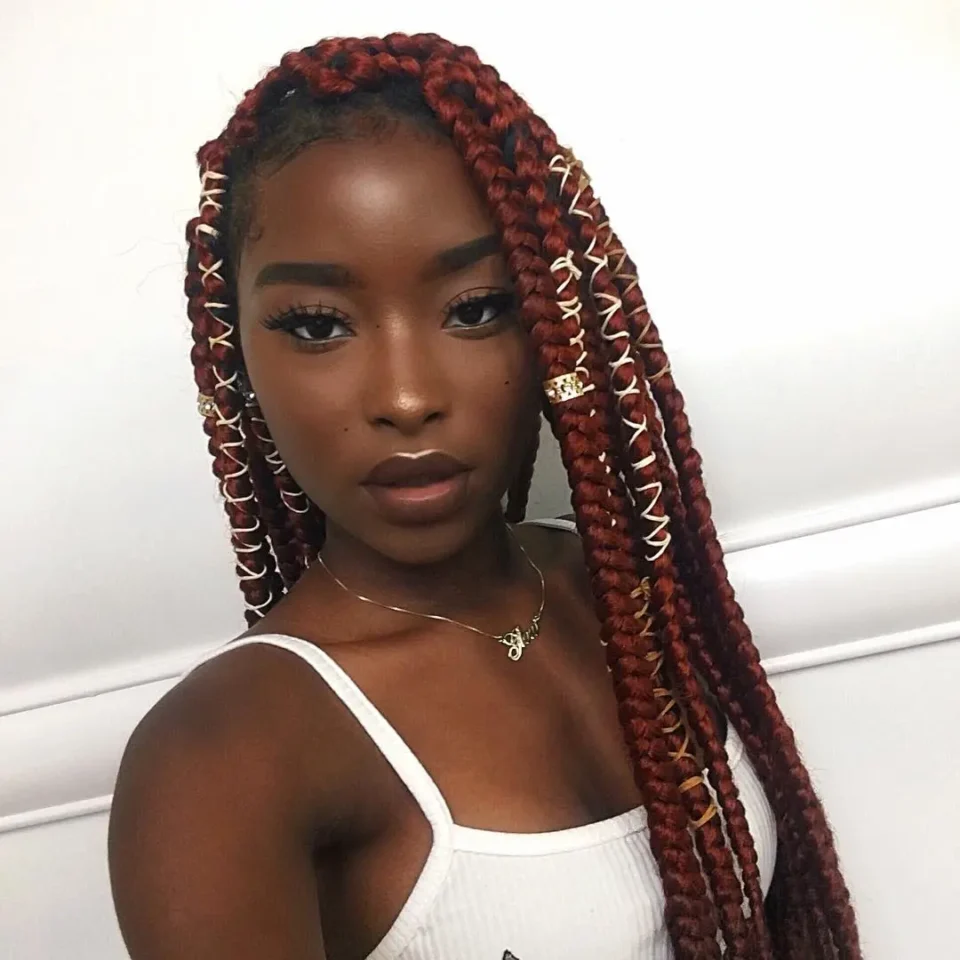 READ ALSO: Unleashing Confidence: Rocking Two Braids as a Modern Man
You can also vary the size of braid.
READ ALSO: Effortless Elegance: 5 Braiding Hairstyles Short Hair
Some people opt for small braids, while others prefer medium-sized or big braids.
READ ALSO: Twist and Shout: Rocking the 5 Trendiest Hair Braiding Styles Twists Today
You can buy hair extensions for braids at many beauty salons or online.
READ ALSO: Afro Hair Care Tip #6: Use Natural Afro Hair Products
Maroon braids are a stylish and captivating hairstyle that has become increasingly popular in recent years. This particular color choice for braids provides a deep, rich hue that adds a touch of sophistication to any look. Whether styled in intricate patterns or simple straight braids, maroon braids offer a unique twist to traditional hairstyles.
READ ALSO: 4 Important Side Effects of Hydroquinone & What You Can Do to Mitigate Them
One of the many benefits of maroon braids is their versatility. They can be styled in a variety of ways, ranging from braids pulled back into a sleek bun to long, flowing braids that cascade down the back. Additionally, they complement a wide range of skin tones and can be worn with various fashion styles, from casual to formal.
READ ALSO: Badass Knotless Braids Hairstyles 2023: All You Need to Know
2. Maroon Dye on Short Hair/Maroon Short Hair
READ ALSO: Embrace Elegance and Individuality with Long Jumbo Box Braids (Plus 5 Easy Care Tips)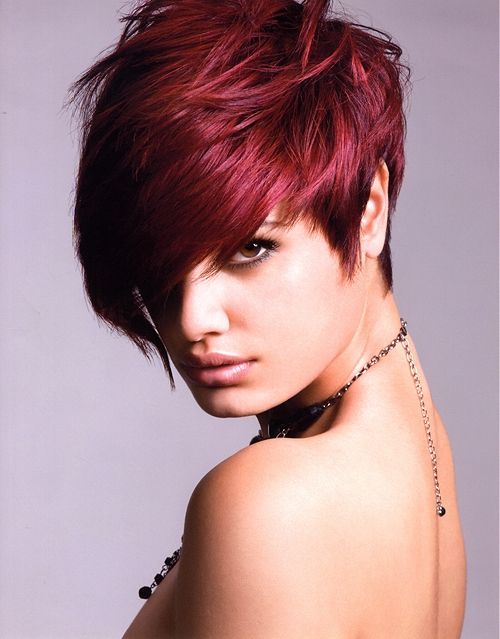 READ ALSO: French Choti & 4 Other Interesting Hair Plaiting Styles
Short hair dyed maroon is another look to die for. This hairstyle has real wow factor.
READ ALSO: Quick & Easy Coloured Wax for Hair 2023
You can dye all your hair maroon or only the ends. Both options will produce a fresh look.
READ ALSO: Silver Purple Hair 2023 Tips: How To Rock this Beautiful Color
Short hair dyed maroon will have you looking young, classy, trendy, and beautiful.
READ ALSO: Dreams About Hair Falling Out: 5 Reasons & What to Do About It
3. Maroon Crochet Braids on Short Hair
READ ALSO: Exploring the Artistry of 5 Interesting Black People's Hair Styles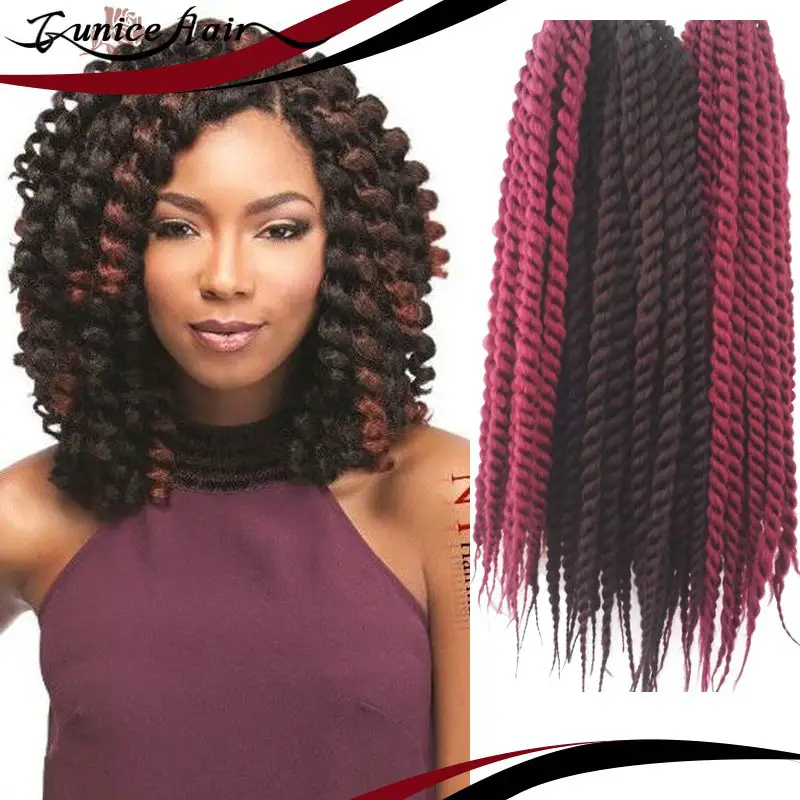 READ ALSO: 4 All Back Hairstyles & Other Interesting African Braids Styles
You can also rock maroon hair in the form of crochet braids, extensions that are crocheted into your own hair which itself is plaited into cornrows.
READ ALSO: 4 Beautiful Twisted Crochet Hair Styles
Usually, crochet braids have some curl to them and are very flattering for many face shapes.
READ ALSO: 5 Big Braids Hairstyles
Crochet braids are generally fluffier than regular braids and will give you that big-hair look.
READ ALSO: 1B Hair: A Beautiful Natural Black Hair Color
To get a maroon crochet braids hairstyle, all you'll need to do is buy crochet hair extensions in maroon that you can then install yourself or have someone install for you.
READ ALSO: Beautiful African Hair Braiding Styles Pictures 2021