Are you wondering about hotels in Arusha, the Tanzanian city that is both a major international diplomatic hub and Tanzania's safari capital? If so, you are in the right place.
Here are 14 hotels in Arusha to consider staying at the next time you visit the city, with 2 bonus recommendations in Usa River, which is a 40-minute drive from Arusha.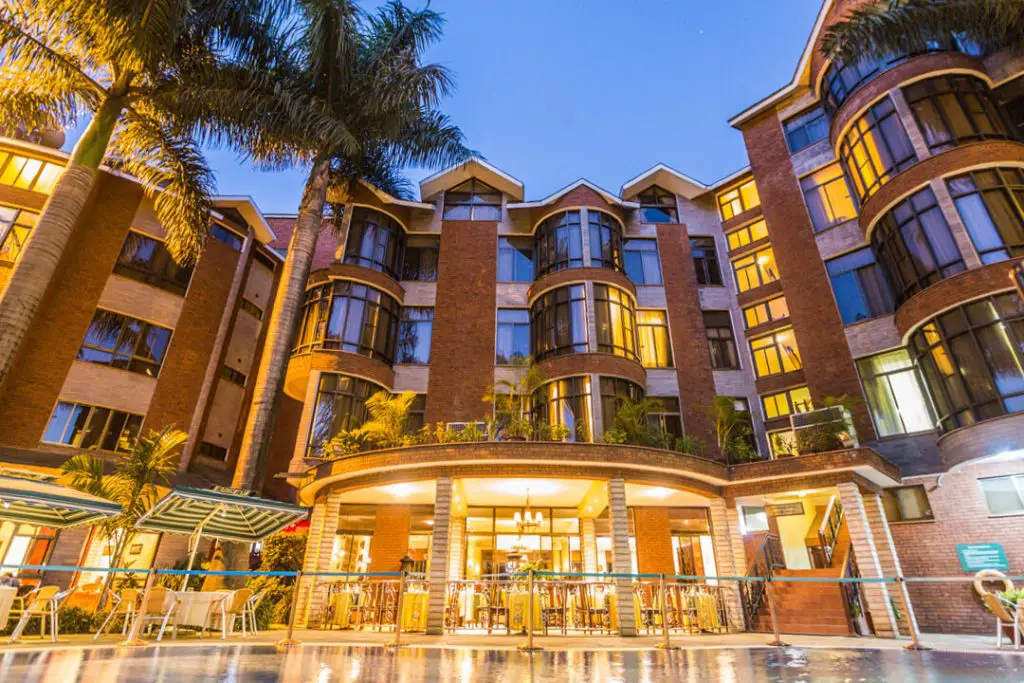 1. Kibo Palace Hotel (One of the Best Hotels in Arusha Tanzania)
In the heart of Arusha, an easy walking distance from many points of interest, lies Kibo Palace Hotel, which offers amenities that you can expect from most urban hotels.
Spacious, well-decorated rooms with very comfortable beds, beautiful views of Mount Meru, a wide selection of delicious food to choose from—these are just some of the things you will find at Kibo Palace Hotel.
Kibo Palace Hotel has very professional service and good meeting rooms too. It is one of the most popular business hotels in Arusha.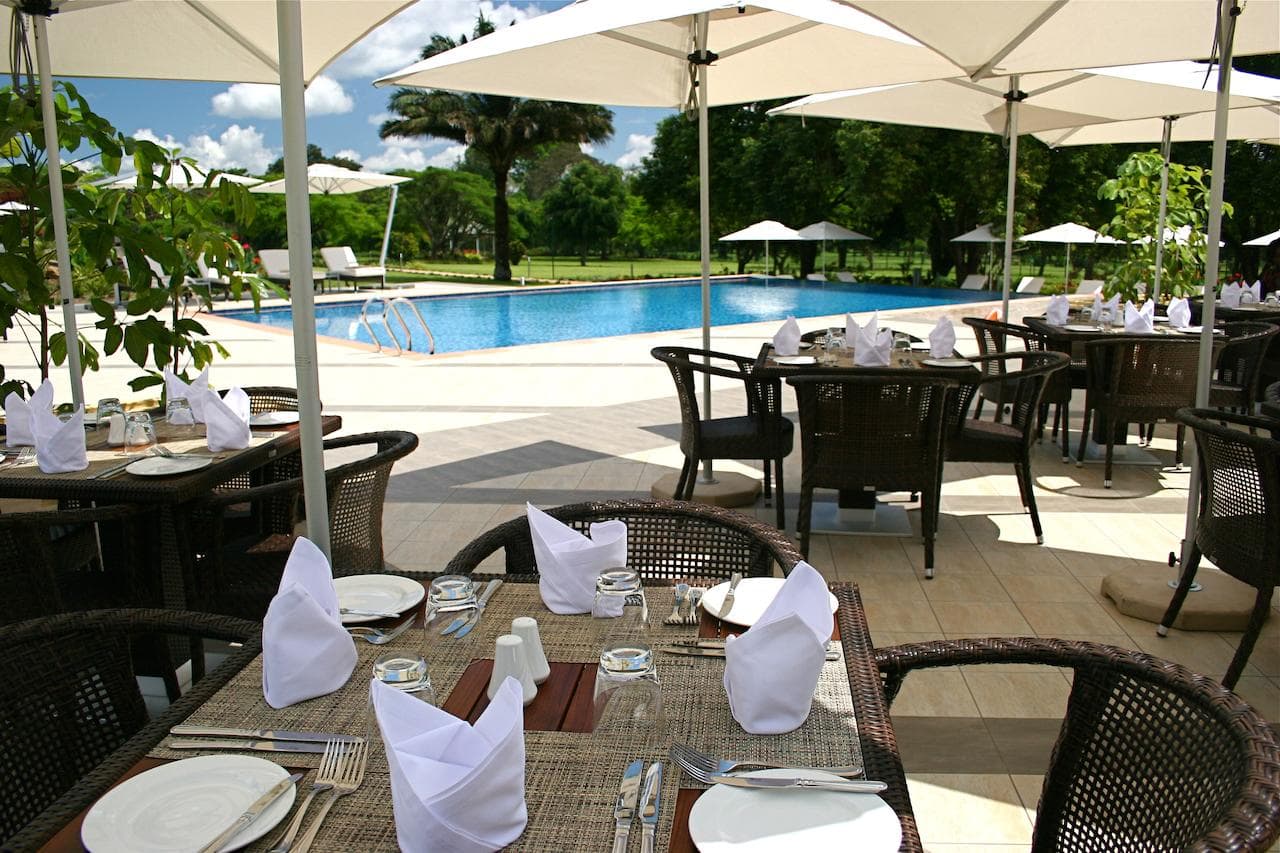 2. Hotels Arusha: Mount Meru Hotel
Mount Meru Hotel is a modern luxury hotel in Arusha with great views of Mount Meru.
It has beautiful lush gardens and a relaxing swimming pool area. The service is very professional and the food good. Mount Meru Hotel is one of my my favourite hotels in Arusha, if not my very favourite!
Mount Meru Hotel blends stylishly elegant African architecture with supremely luxurious accommodation, sparkling water gardens with beautifully landscaped ones, and a wide choice of international restaurants.
Situated at the foothills of Mount Meru, Mount Meru Hotel lies on 15 acres of serene, lush landscape.
The hotel is surrounded by some of Africa's most breathtaking vistas, rich with a diverse array of wildlife, etched against the fertile slopes of Mount Meru, the fifth highest peak in Africa.
Mount Meru hotel is one of the more upscale hotels in Arusha.

3. Arusha Giraffe Lodge (Hotels in Arusha Town Tanzania)
When you are budget travelling, there's nothing better than finding accommodation at a steal that is safe and that provides everything you are looking for in terms of a place to stay.
Arusha Giraffe Lodge is one such place.
Housed in a residential property that has been converted into a lodge, Arusha Giraffe Lodge is small and efficient.
The space is a little cramped to maximize the services provided, but that said: the beds are unforgettably comfortable, the water from the shower is nice and hot, the food is good, it has a well-stocked bar complete with a bar sitting area, and the service is very friendly.
The lodge has a safe parking (useful if you are driving your own car), and free transportation is provided to and from both Arusha town and Arusha airport.
If budget is your primary consideration when travelling to Arusha, then I recommend Arusha Giraffe Lodge wholeheartedly!

4. Four Points by Sheraton Arusha, The Arusha Hotel (Hotels in Arusha City Centre)
The Arusha Hotel (now Four Points by Sheraton Arusha, The Arusha Hotel) is not only one of the oldest hotels in Arusha–it was established in 1894–but one of the oldest hotels in the whole of East Africa.
I must admit, this is a hotel I am partial to because this is where my parents had their first date, and I make sure to visit it every time I am in the city.
In its current rendition, The Arusha Hotel (which purportedly stands midway between Cairo and The Cape of Good Hope), is a perfect mix of old world charm and modern efficiency.
Located smack-dab in the middle of Arusha's city center, The Arusha Hotel is a great place to stay if you have business in downtown Arusha or simply want to explore the city.
Don't worry, though: the beautiful manicured gardens of the hotel make it an oasis of calm and will likely make you forget how close to Arusha's business center you are.
To find out more about this historic business and leisure hotel, click here.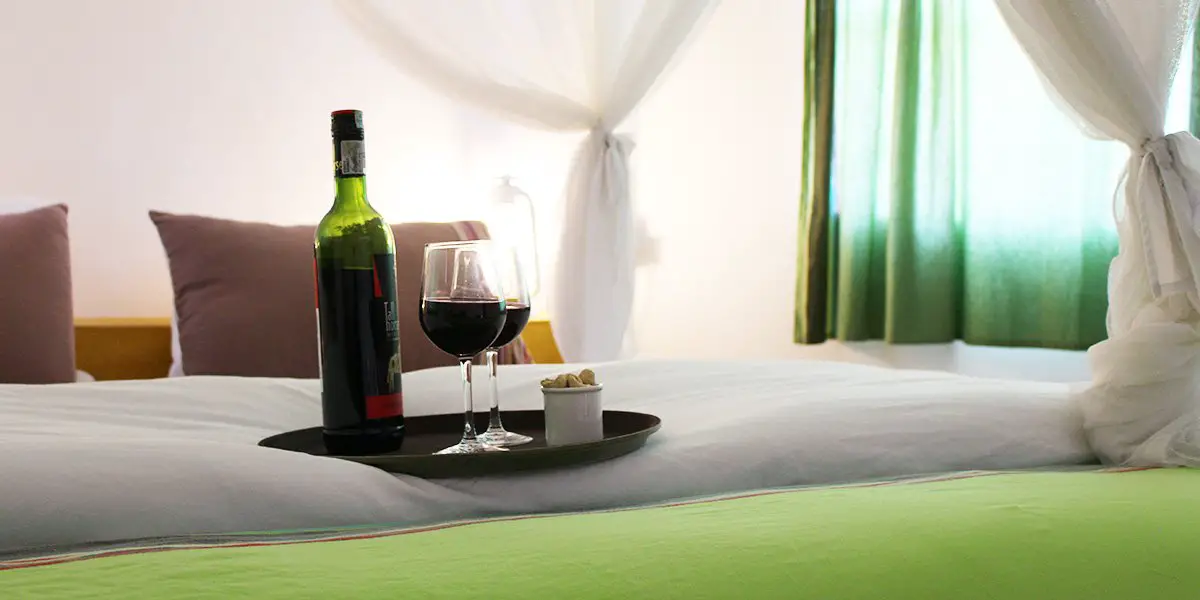 5. Arusha Tanzania Hotels: Dan Stam Hotel, Arusha
Located 9.7 km from Sakina supermarket, Dan Stam Hotel offers accommodation with a restaurant, free private parking, a bar and a shared lounge.
With a garden, the property is located within 11.3 km of Sables Square Shopping Village Arusha.
Dan Stam Hotel has a 24-hour front desk, airport transportation, room service and free Wi-Fi throughout the property.
The rooms have a private bathroom equipped with a bidet and free toiletries. Some rooms at Dan Stam Hotel also have a garden view.
The hotel serves a continental breakfast every morning. Dan Stam Hotel also has a playground.
The Uhuru Monument is 11.3 km from the hotel, while Arusha Central Market is 12.9 km from the property.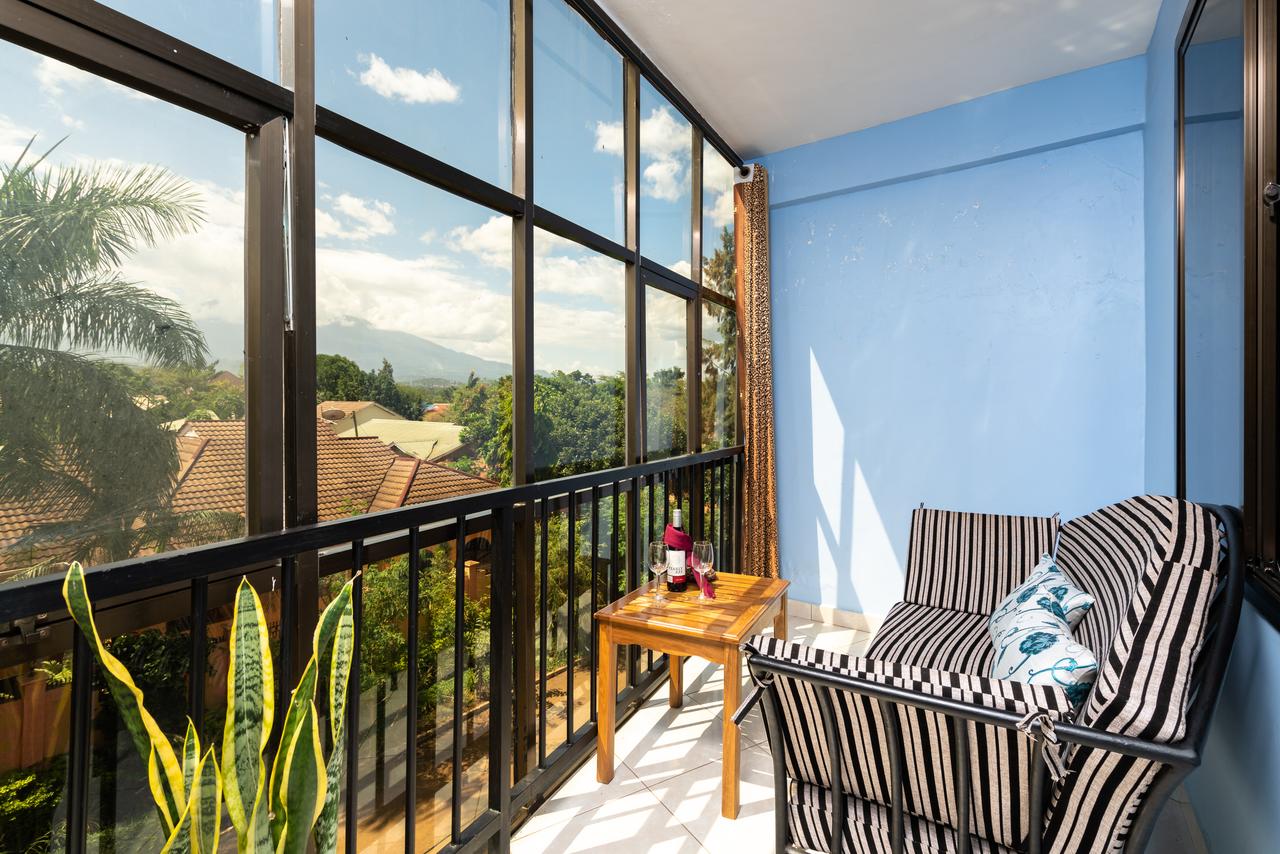 6. Arusha Hotels: Mrimba Palm Hotel
Mrimba Palm Hotel is a place where you can relax in serenity and take in fresh air.
Located in the heart of Arusha, it is a 50-minute drive from Kilimanjaro International Airport (KIA) and a 10-minute drive from Arusha's city center and the Arusha International Conference Center.
Mrimba Palm Hotel has spectacular views of nearby Mt. Meru and towering Mt. Kilimanjaro off in the distance. The hotel has everything necessary for you to unwind on your trip.
Mrimba Palm Hotel is well placed in peaceful and natural surroundings, offering breathtaking views of raw nature at its best.
7. City Link Hotel Arusha
City Link Hotel is a budget hotel located along the Moshi-Arusha highway in an area known as Philips.
The hotel is basic but warm, with good views of Mt. Meru. City Link Hotel is quite clean and has green outdoor space.
There is a restaurant on site and the rooms are spacious. The hotel offers free Wi-Fi and is family-friendly.
8. Boulevard Inn Mt. Meru
Boulevard Inn Mt Meru is located on Themi Hills and also offers a great view of Mt. Meru.
The property is only a short distance from popular Arusha attractions such as the Old German Boma (very interesting to visit) and Arusha Central Market.
The property's front desk operates 24 hours a day.
Free Wi-Fi is available to all guests, and some rooms have a balcony.
Breakfast in the morning at Boulevard Inn Mt. Meru can be continental or a buffet breakfast.
The hotel has a sun terrace. Couples in particular like the location of this hotel.
9. Sinzia Villas
Sinzia Villas, a large quiet private villa outside Arusha's city center that has been converted into a B&B, is as its name suggests (sinzia means 'to fall asleep' in Swahili) a great place to lay your head for a good night's rest when you are in Arusha.
Its room rates are very pocket friendly, the establishment is extremely clean, and its staff is particularly friendly.
Amenities at Sinzia Villas include a restaurant that serves delicious food, a 24-hour front desk, and free Wi-Fi.
Sinzia Villas can also help arrange your transportation to and from the airport or for daytrips during your stay. Be sure to ask!
10. Venus Premier Hotel, Arusha
Venus Premier Hotel is a boutique business hotel.
Located 200 m from Arusha Central Market, Venus Premier Hotel offers accommodation with a restaurant, free private parking and a bar.
At this facility, you will find a concierge service and ticket service, along with free Wi-Fi throughout the property.
Venus Premier Hotel offers a 24-hour front desk, room service and currency exchange for guests.
11. Green Mountain Hotel, Arusha
Green Mountain Hotel has both an outdoor pool and a restaurant. The hotel also offers free Wi-Fi.
Each room, at Green Mountain Hotel, has a TV, a sitting area, and satellite channels. The rooms have private bathrooms with showers, a hair dryer, and free toiletries. Rooms have a view of Mount Meru.
At Green Mountain Hotel you will find a 24-hour front desk and free parking.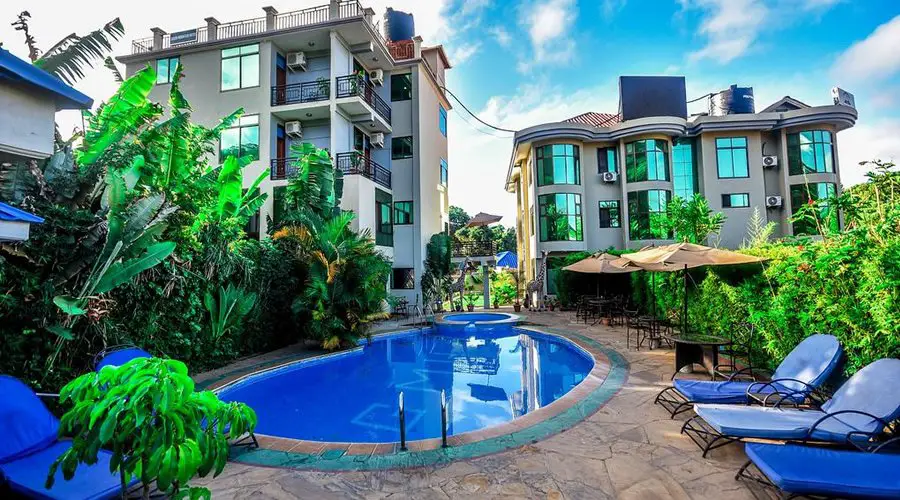 Kilimanjaro International Airport is 41 km from the hotel.
12. Tulia Boutique Hotel & Spa
The heart of Tulia Hotel's philosophy—tulia means 'relax' in Swahili— is to create unique experiences around individual guests and to provide them with a tranquil hideaway.
With only 23 rooms, Tulia Hotel is the perfect oasis for guests looking for a private and peaceful retreat.
From its African-ized architecture, to its cosy and aesthetically pleasing interior, Tulia Hotel is a "highly individualised property".
Tulia Hotel also has a spa designed to rejuvenate and renew the mind and body.
13. Gran Melia Arusha – One of the Most Luxurious Hotels in Arusha Tanzania
An oasis within Arusha set on 18 acres of beautiful landscaped coffee and tea plantations. Experience pure tranquility with spectacular views of Mount Meru at Gran Melia Arusha.
A river runs through the property and there are several natural springs. A herb and vegetable garden hides between the plantations.
Gran Meliá Arusha, one of the most luxurious hotels in Arusha, offers a unique experience combining the most exciting once-in-a-lifetime safari destination with state-of-the-art conference facilities.
The hotel also boasts a beautiful spa and a heated outdoor pool.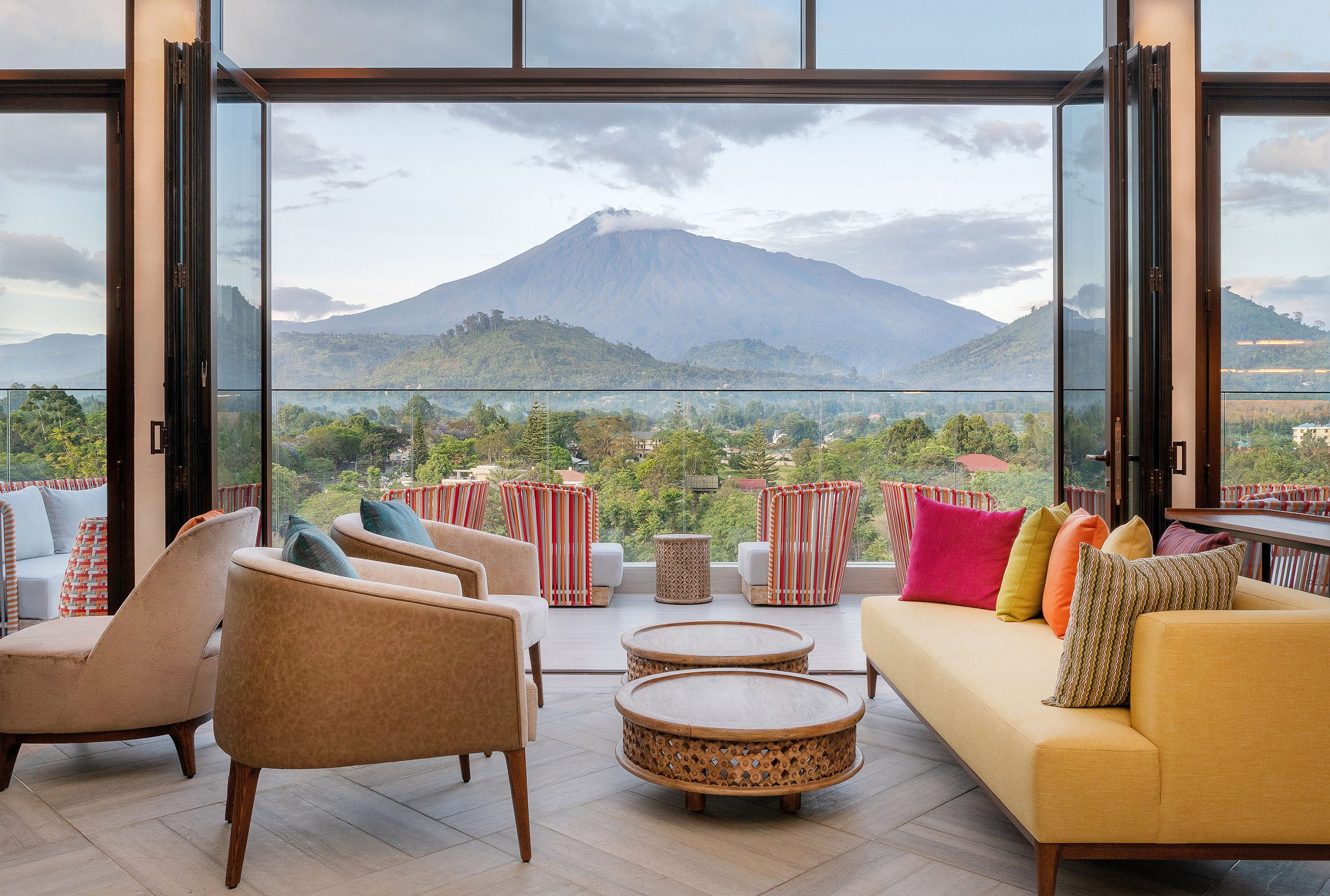 14. Masailand Safari & Lodge
Masailand Safari & Lodge is located in Arusha and offers remarkable views of Mt. Meru. It lies 45 minutes away from Kilimanjaro International Airport and is a convenient 3 hours away from Nairobi.
Masailand Safari & Lodge lies on a hill top where 9 cottages sit surrounded by magnificent nature and beautiful gardens and plants.
The rooms at Masailand Safari & Lodge have balconies from which you can enjoy breathtaking views of both Mount Meru and Kisongo Valley.
All rooms are equipped with air conditioning, spacious bathrooms, tea & coffee makers, flat televisions, a Wi-Fi connection, and a minibar.
The windows of the rooms are double glassed to ensure a quiet, relaxing environment.
Masailand also has conference facilities, a gym, a sauna, and a swimming pool which is free for residents.
BONUS 1: Kilimanjaro Eco Lodge, Usa River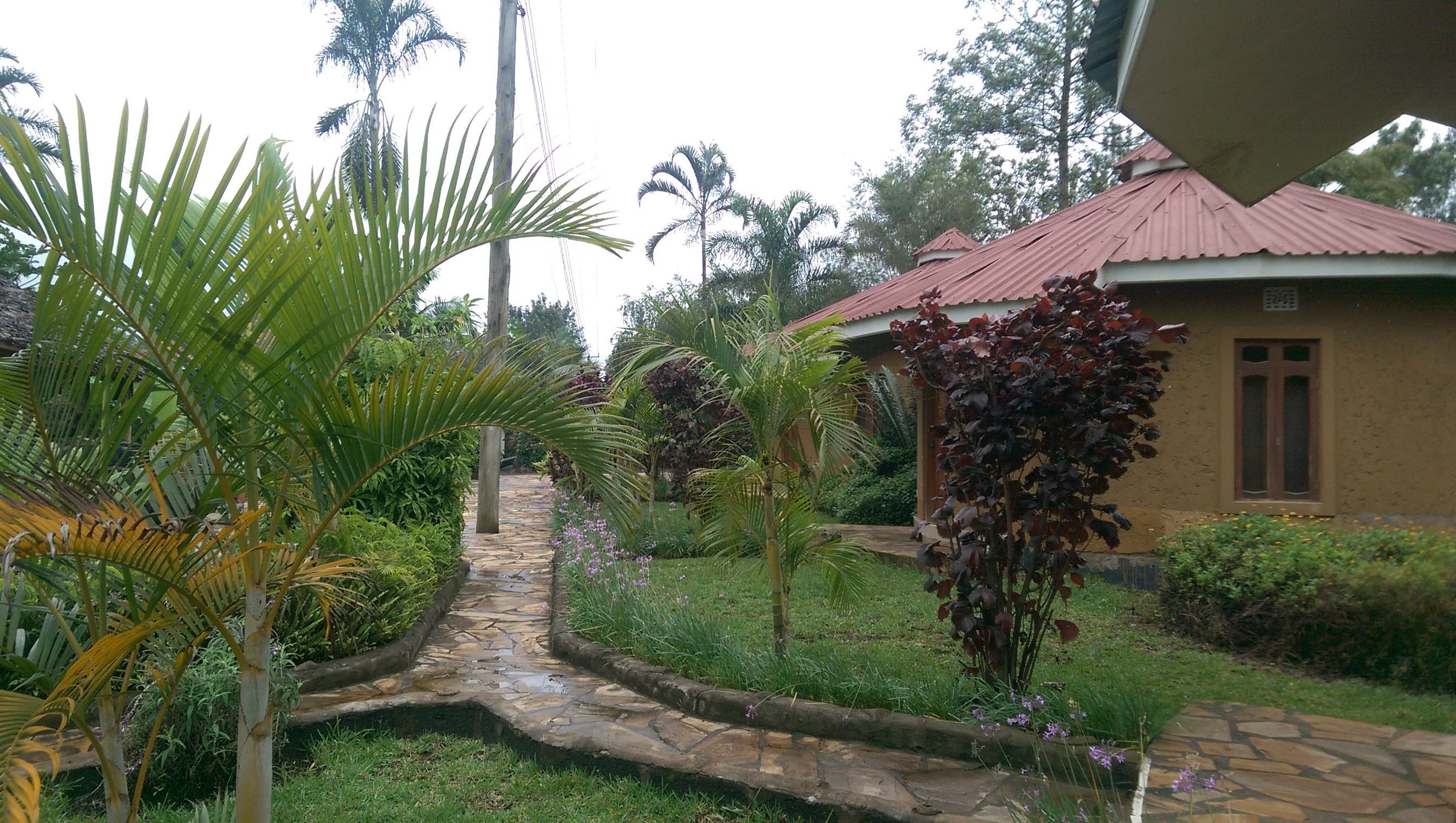 About 40 minutes outside Arusha, in Usa River, lies Kilimanjaro Eco Lodge. Clean, comfortable accommodation housed on grounds with lots of foliage and verdant nature. Beautiful views of Mount Meru.

BONUS 2: Rivertrees Country Inn, Usa River
Rivertrees Country Inn is a charming upmarket establishment in Usa River, about 40 minutes outside Arusha.
It counts among its former guests: two German presidents, the Prince of Wales & Duchess of Cornwall, and Jane Goodall, to name a few.
Set on lovely grounds with lots of trees and a river running through the premises, Rivertrees Country Inn is a haven of peace and tranquility.
The cottages are very spacious with lots of privacy. The service is very friendly, and the atmosphere relaxing.

So what do you think about this selection of hotels in Arusha? Are there other hotels in Arusha you would like to recommend to others? If so, let me know in a comment below.
Until the next time,
Biche
Photo Credits: Mount Meru Hotel, HRS, Dan Stam Hotel, Trip.com, Venus Premier Hotel, VogaBongo, Tripadvisor, Trip.com, limpinglemur; Ferdi's – World; World Luxury Restaurant Awards; Maradentro