Dass Restaurant (Ethiopian restaurant in Nairobi)
Pride Towers, Woodvale Grove, Westlands
Nairobi
Tel: +254-(20)-4453262
Mob: +254-(722)-388388
Email: [email protected]
Just when I thought my mind was made up on Ethiopian restaurants in Nairobi, something new came from left field.
It all began on a Wednesday evening, when I was hanging out with a friend.
Out of nowhere, I started to have an Ethiopian food craving.
We had things to do in the Kileleshwa-Riverside-Westlands area, and so my friend was adamant about not driving to Argwings Kodhek, where our favorite Ethiopian restaurant is.
Whatever the case, I really needed some Ethiopian food so suggested that we try a new restaurant in Westlands, Dass Restaurant, that came highly recommended to me by my ex-housemate.
To the best of my knowledge, Dass Restaurant is owned by someone of Asian (I think Indian, to be more precise) descent, so I had doubts about the authenticity of the food they served.
Nonetheless, when push came to shove, I felt some Ethiopian food would be better than no Ethiopian food. 🙂
Discovering a New Ethiopian Restaurant
My friend and I made our way to Woodvale Grove, where Dass Restaurant is located. (Woodvale Grove is the same road where Havana, Card Centre, and Cosmic Bowling are located.)
The entrance to Dass Restaurant is a little hard to find. It can easily be located, though, with the help of one of the many askaris on that street.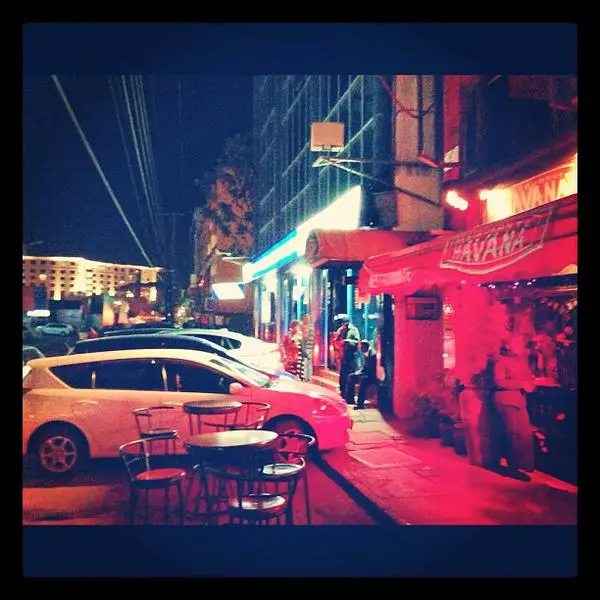 Dass Restaurant is located on the second floor of the building adjacent to Crooked Q's (I think), so the entrance on the street level is a little to the right of Havana.
This entrance leads to a narrow staircase which leads directly to Dass Restaurant.
Dass is unlike any other Ethiopian restaurant I have been to in Nairobi.
It is the most upscale Ethiopian restaurant decor-wise and reminds me of La Reine de Saba, an Ethiopian restaurant I used to frequent as a child in the Côte d'Ivoire (in case you might have ever eaten there too).
Dass Restaurant has traditional, low table settings and red wall-to-wall carpeting.
When I first found it, I was overjoyed that I'd finally found an Ethiopian restaurant in Nairobi that was nice enough for a work function or that I could take my parents to.
The Food
The food at Dass was also unlike any of the food that I had eaten at the other Ethiopian restaurants I frequent so often in Nairobi.
I cannot clearly say that it was better, but it definitely tasted different.
Either way, it was very, very good.
What I loved most at Dass Restaurant were the portion sizes.
Unlike other Ethiopian restaurants that serve humongous servings that encourage one to overindulge, Dass Restaurant serves portions that allow me to enjoy my food without getting too full.
The first night I visited Dass Restaurant, my friend and I shared a mixed dish (price: 500 Ksh). The dish was enough for both of us with a little left over.
This was a far cry from the mixed dishes that we often ate at Red Sea or Habesha that can easily serve 4 people.
From the dinning area at Dass Restaurant, one can clearly see the bar.
From what I've seen and sampled, it seems that Dass has a well-stocked bar at regular Westlands prices.
Live Entertainment at Dass Restaurant
On that first visit to Dass Restaurant, a waiter suggested that my friend and I return on the weekend, when a live band plays and has the establishment filled to capacity.
A few months later, I did visit Dass Restaurant on a Friday night. What the waiter said was true.
Although I didn't find a live band playing (I arrived at Dass well after midnight), I found the place packed with interesting people and the most amazing danceable music playing.
A friend then invited me to Dass a few months after that for a spoken word event that also took place on a Friday.
If you have not heard of it before, allow me to summarize. Dass Restaurant is a wonderful Ethiopian restaurant in Westlands, on Woodvale Grove, that serves good food in a classy ambiance. On the weekends, Dass 'happens' with live bands and poetry readings which have the place packed to capacity.
If this is your kind of thing, please check it out.
When you do, let me know what you think.
Until the next time,
Biche
Daas Restaurant
The restaurant in Nairobi is Dass Restaurant not Daas Restaurant. There is a restaurant called Restaurant Chef Daas in Djerba Midun, Tunisia though, which serves Tunisian food.
Ethiopian Restaurants in Nairobi
Nairobi has a big Ethiopian community and one of the benefits of this is the abundance of Ethiopian restaurants that serve authentic Ethiopian cuisine for all budgets. So where to go for good Ethiopian food in Nairobi?
The most popular Ethiopian restaurant in Nairobi is Habesha on Argiwings Kodhek. I wrote a whole post about Habesha which you can read here.
Abyssinia Restaurant Nairobi
If you are in Westlands, the place to go is Abyssinia on Brookside Grove.
Olympia Ethiopian Restaurant
Olympia Cafe and Salon is an eatery in Pagani that also serves Ethiopian food.
Asmara is an Eritrean restaurant with three branches across the city: one in Westlands, another in Karen, and yet another in Pangani.
Kesh Kesh Coffee Roastery & Cafe in Timau Plaza (near Yaya Center) also serves good Eritrean food.
What is your favorite Ethiopian restaurant in Nairobi?
Please let me know in a comment below!
Photo Credits: arabiczeal.com; foursquare.com; cheunderground.com, Yululate