Dawn of Creation
1st floor, Museum Hill Centre
Tel: +254 (0)20 374-0140/374-0475
+254 (0)721 240634
+254 (0)722 859909
Email: dawnofcreation@waweru.com

Today, I am going to do something unusual and tell you not about a place at which to hang out or a restaurant at which to eat. Instead, I am going to tell you about a fashion house that I think produces the most innovative Kenyan fashion designs that I have seen to date. Before I do, allow me to give you a brief background of my experience with African fashion.
As I've mentioned in previous posts, I grew up in Côte d'Ivoire. Ivorians are great fans of all things good and really like to dress up. Unlike East Africans, for whom dressing up often involves western style clothing or clothing from foreign cultures, Ivorians dress up mostly in African attire. The Ivorian fashion industry is extremely sophisticated and keeps up with the times. As a young girl in Côte d'Ivoire, dressing in African attire could mean wearing the slinkiest, off-shoulder mini dress made of kitenge that had nothing to do with being traditional, old-fashioned, or stodgy.
When I first moved to Kenya, I was not very impressed with the African wear that I saw Kenyans wear. Very often, what I saw was simply imported West African clothing, often of poor quality, or Kenyan adaptations of West African styles. I rarely saw true indigenous or authentic Kenyan fashion.
In 2004, at the first Kenya Fashion Week that I attended, I continued to have the same feeling for the most part. The designs that stood out most for me were by a fashion house that designed A-line skirts out of hessian and leather. (Hessian, also know as jute, or raffia, is a material that is often used to make sacks and is rarely used as clothing.) At the time, I didn't note the name of the fashion house.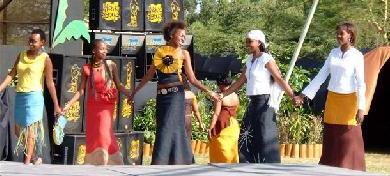 In 2005, at the first Party in the Park, held at the Carnivore show grounds, I encountered this same fashion house again. Their designs had evolved to include shoes and handbags, as well as very elegant evening wear. This time, I noted the name of the fashion house, Dawn of Creation. Dawn of Creation still used primarily hessian and leather in their designs, but their collection also included a lot of beadwork and metal decorations to adorn these fabrics. The fashion show they put on at Party in the Park was a sight to behold. The colors were bright and bold – bright yellow, fuchsia, and turquoise – and the designs incorporated some of the new concepts that were developed during the search for Kenya's national dress.
In 2006, in search of an outfit to wear to a friend's wedding, I finally visited the Dawn of Creation atelier, located on the 1st floor of the Museum Hill Centre, on Museum Hill. Once more, the Dawn of Creation fashion line had evolved even further. Beyond the usual hessian and leather outfits, the collection also contained creative uses of fabrics such as suede, tulle, silk, and kitenge. I chose to have a red suede beaded top made. The top was made of red goat suede with gold and purple beadwork.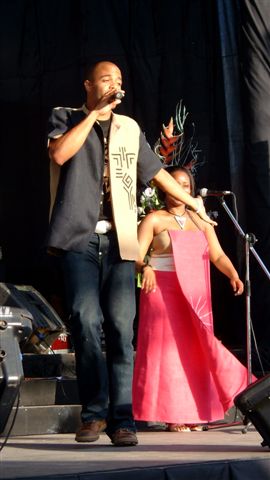 I don't think the pictures in this post do Dawn of Creation justice, but there are the best I could find for now. I will try to get better pictures to share with you as soon as possible. For now, you will just have to take my word for it or go see for yourself.
As I said earlier, they are located on the 1st floor of the Museum Hill Centre, on Museum Hill. Other contact details are listed at the beginning of this post. If you are looking for chic, young, elegant African wear for an upcoming event, this might be the place where you find what you are looking for. At the very least, I guarantee you a feast for the eyes.
Once you do check them out, I'd love to hear what you have to say.
Biche
P.S. To be sure not to miss future posts on ChickAboutTown, sign up to receive posts directly by email or subscribe to ChickAboutTown in a reader.