Are you thinking of sporting maroon or burgundy dreads but aren't quite sure what look to go with? This post is about just that.
Know that you don't have to grow maroon locs yourself: you can get faux locs that give you your desired look in a jiffy. Let's get started!
Table of Contents
READ ALSO: 7 Fun Coloring Styles Hair to Change Up Your Look
Burgundy Dreads Male/Burgundy Dreadlocks/Burgundy Color Dreads/Burgandy Dreads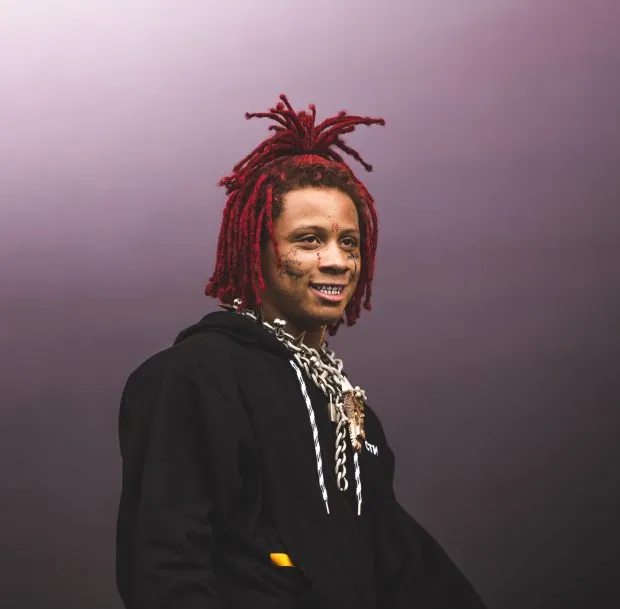 Most of the pictures below are of maroon or burgundy locs on women, but the style works on men too.
If you are male and want to sport burgundy dreads male, go right ahead. You'll probably look spunky and full of character.
So what is the difference between burgundy dreads male and maroon dreads? Maroon and burgundy are two shades of red, which often confuse many people. The main difference between maroon and burgundy is that maroon is made by adding brown to red whereas burgundy is made by adding purple to red, so burgundy is a slightly cooler color (in terms of tone) than maroon.
READ ALSO: Fashion Tips for Bearded Men
Burgundy Dreads Female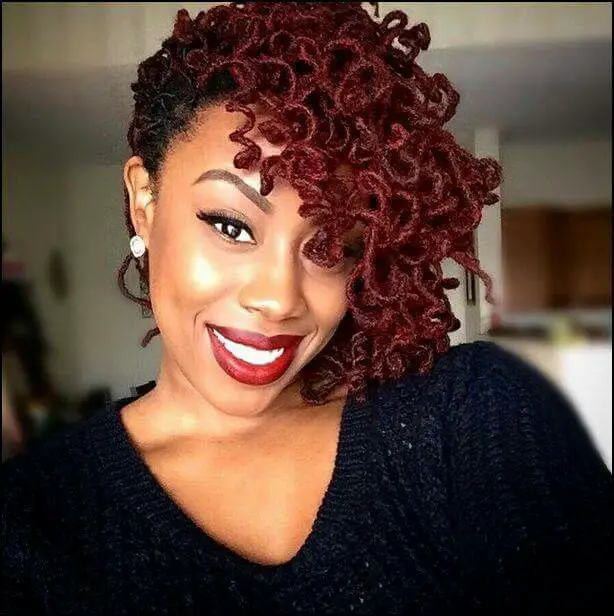 To get real maroon locs takes longer than faux locs, but is relatively straightforward.
To do this, you need to grow actual dreadlocks and then dye them maroon (or dye your hair maroon first and then start your dreadlocks).
A word of warning: dyed hair is generally weaker than virgin hair, though, so dyeing your hair whether it is loose or in dreadlocks increases the likelihood of you experiencing hair breakage.
If you do dye your hair or locs maroon, take extra precautions not to overmanipulate your hair and to strengthen it in other ways.
READ ALSO: Waves Long Hair
Maroon Dreads Men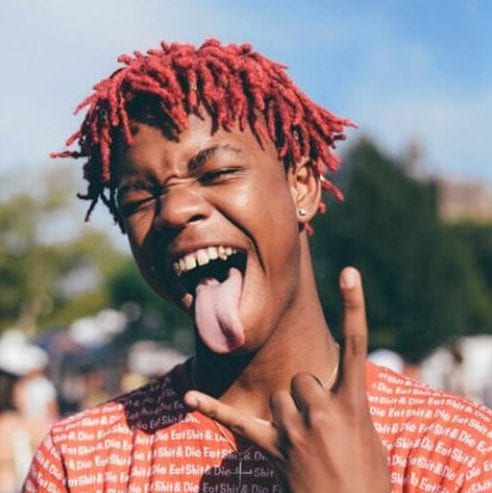 READ ALSO: Hair Stylist Color Tips 2023: How to Find the Best Hair Colorist for You
Maroon Dreads Tips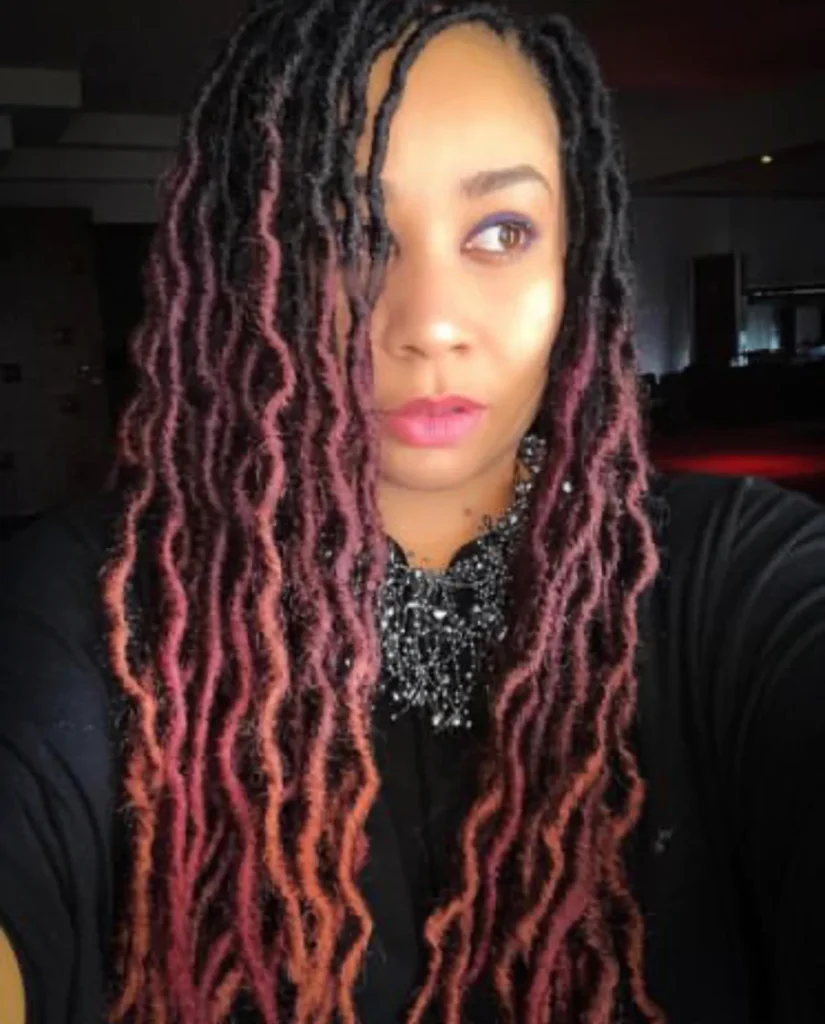 READ ALSO: Microfiber Hair Towel 2023: Why They Are Great for Your Hair
Maroon Butterfly Locs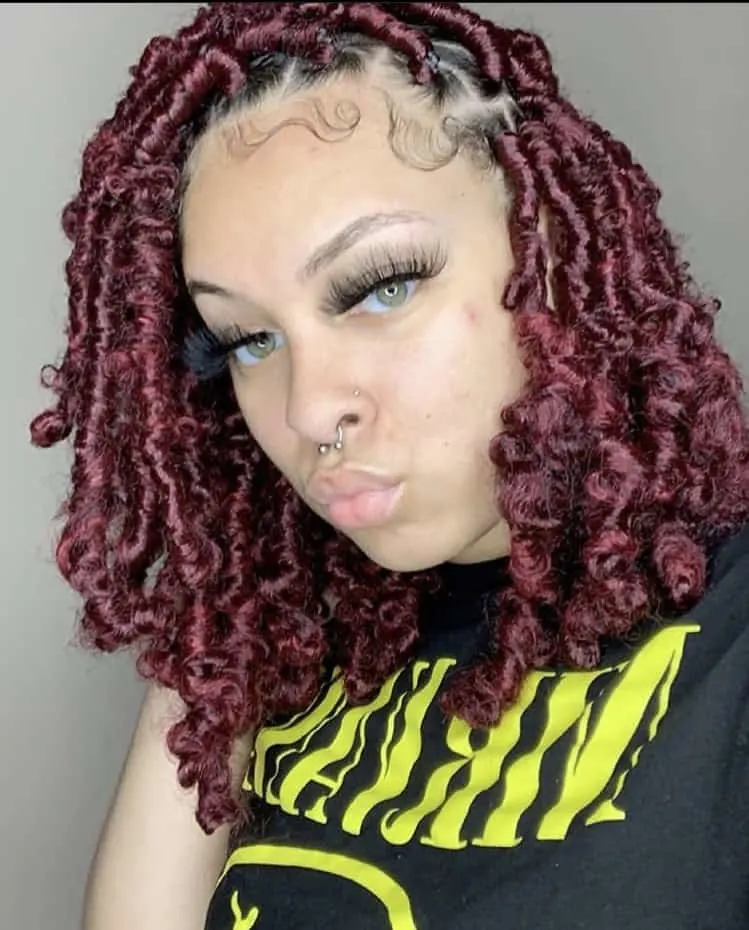 An easy quick way to get what look like maroon locs is to get maroon butterfly locs. What are butterfly locs, you ask?
Butterfly locs are a type of faux locs that are made by crocheting hair extensions into your own braided hair and wrapping them into what looks like locs.
The hair extensions used to make butterfly locs are wavy and are what give these faux locs their distinct look.
READ ALSO: What Does 40 Locs Look Like? & More
Maroon Dye on Dreadlocks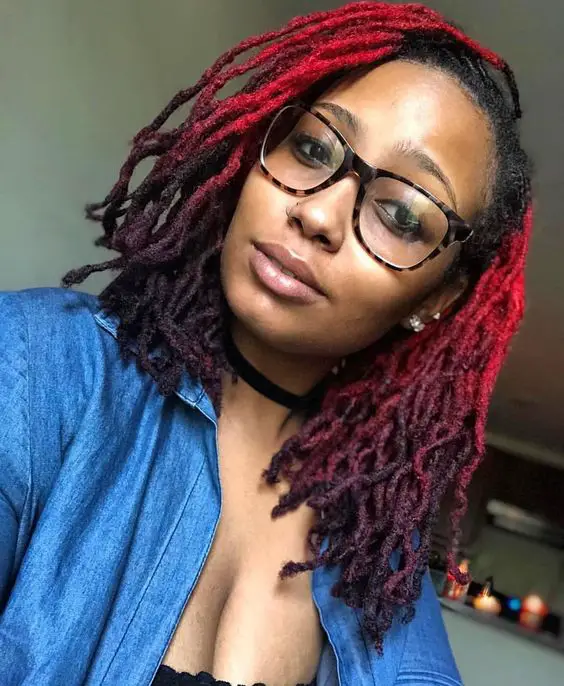 Who says that in order to have maroon locs you have to do full maroon?
Maroon ombré locs are another way to go.
For this style, you can start with locs in your natural hair color and then dye them partially whenever you decide you want them to be ombré.
READ ALSO: Silvery Purple Hair 2023 Tips: How To Rock this Beautiful Color
Maroon Loc Extensions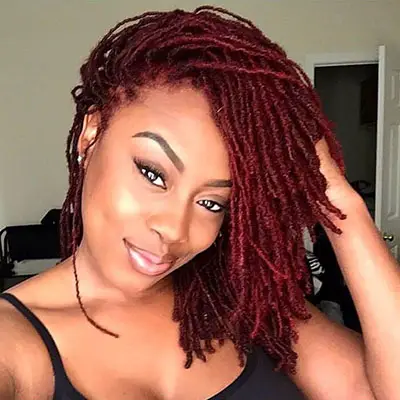 If growing real locs is not for you, but you want the real dreadlock look then you can sport maroon locs by getting maroon loc extensions attached to your hair.
These loc extensions can be either synthetic or made with real human hair.
READ ALSO: Beautiful Locs Style for Short Hair 2023
Maroon Dreadlocks in an Updo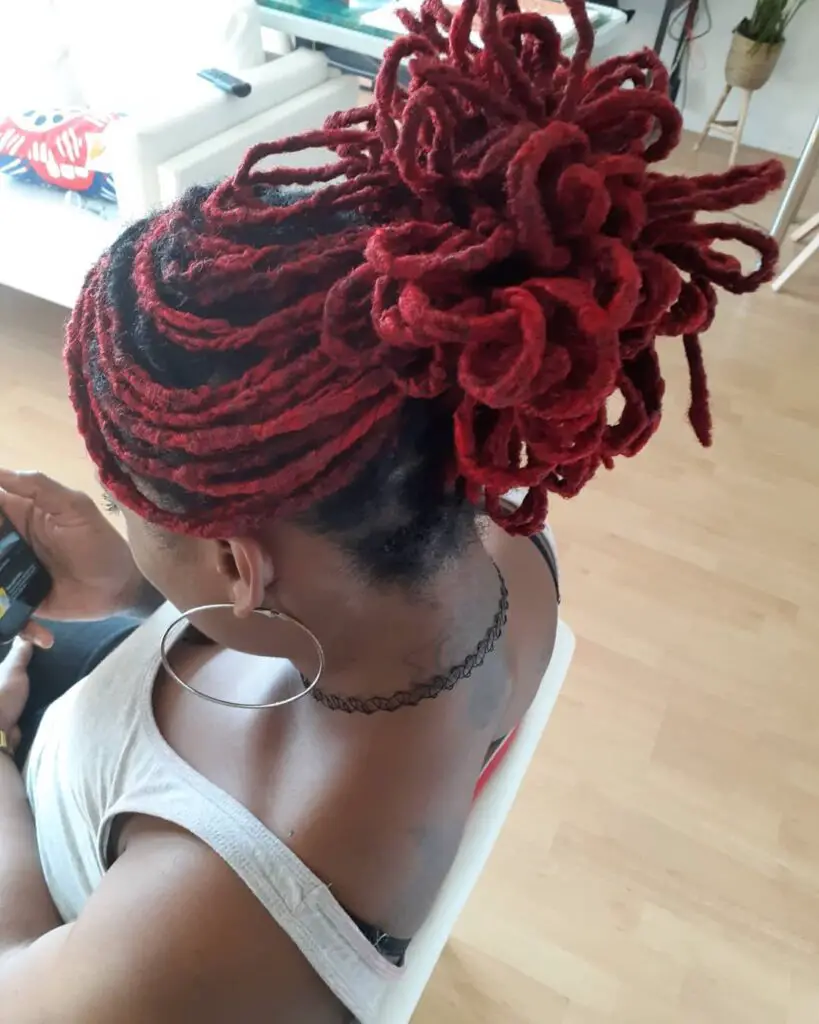 Once you have maroon locs, you can further add to the look with styling, for instance in an updo which adds sophistication and also manageability, as it gets the locs off your face, neck, and shoulders.
READ ALSO: 4 Beautiful Twisted Crochet Hair Styles
Maroon Locs on Light Skin
Wondering what maroon locs look like on light skin? If so, here's a picture of that.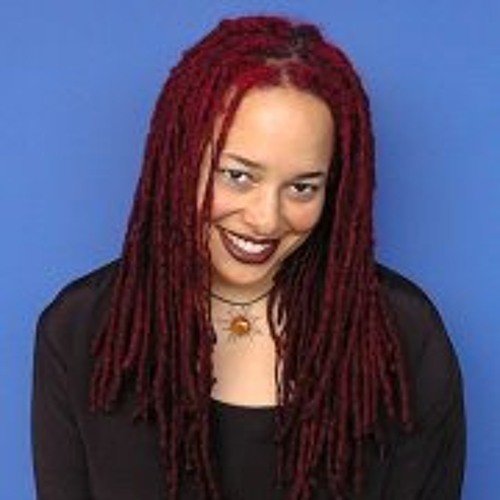 Maroon Ombre Gypsy Locs
Gypsy locs are a type of crochet locs.
What makes locs gypsy locs is not a particular type of hair extension used for the hairstyle but rather what you do with the extenstions, as and after you install them.
Most notably, gypsy locs are a full head design that incorporates accessories and details to give an overall presence and feel of a gypsy vibe.
The picture above shows the initial installation of the faux locs to be used as a base for gypsy locs, but the completion of the style would include making some of the hair loose and adding hair accessories such as beads and cowrie shells.
Burgundy Locs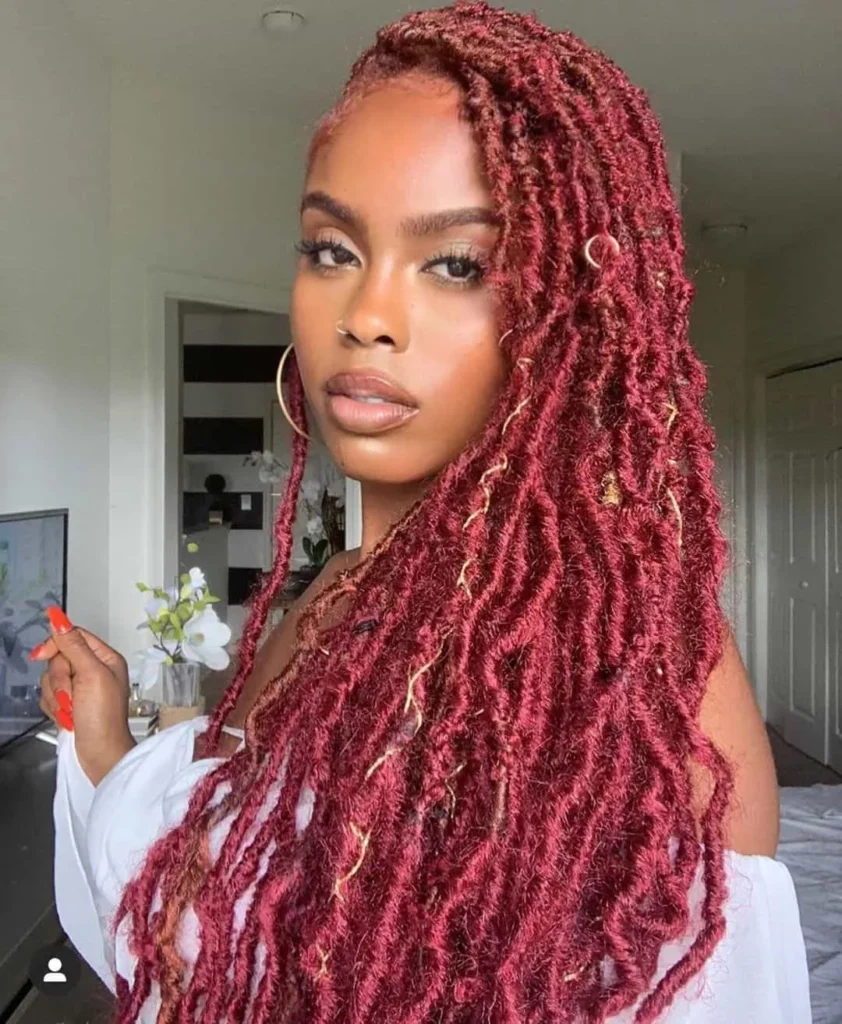 Maroon Crochet Locs
I have already mentioned crochet locs in the sections above. Crochet locs are simply crochet braids that look like dreadlocks.
The aesthetic difference between natural dreadlocks and crochet locs is primarily texture, as you've probably noticed from the pictures above.
Crochet locs vary in length and size so you can choose exactly how you want your maroon crochet locs to look.
So…have you ever rocked maroon hair? If so, in what form? If not, would you ever consider having your hair maroon?
Let me know by leaving a comment below.
READ ALSO: Getting Your Nails Done in Nairobi
Photo Credits: Black Beauty Bombshells, Sharon HJ, LocLivin, Hairplusbase, Hairstylery, Hillary Maroon, Yaoota!, Jamznet, Black Beauty Bombshells, Men Hairstylist, Her Natural Hair Care