This post is about my favorite burger on the Java House Nairobi menu — Bens Burger.
Whoa, whoa, whoa!
Today, I want to tell you about one of the tastiest foods you will ever eat in Nairobi.
It's a burger unlike any other burger, found at Nairobi Java House, that is sure to knock the socks off your feet!
How about I start by telling you about the first time this burger knocked the socks off my feet?
My First Nairobi Java House Ben's Burger
It was many years ago, at a time when eating at Nairobi Java House still meant eating at Adams Arcade.
It was early evening, and I was meeting up with a friend to catch up on all the latest happenings in our lives.
We had both come from work, and so decided to grab a bite as evening fell.
I no longer remember what my friend ate that day, but I sure remember what I ate.
I was in the mood for something simple, so I decided to eat a burger.
Scanning the list of burgers, I saw at the very bottom a Ben's Burger, a cheeseburger covered with mushroom sauce.
That seemed an interesting way to spice up a plain cheeseburger, so I decided to try that!
I don't usually eat burgers.
I find them a tad overrated.
In short, they are simply glorified sandwiches to me.
Sometimes, though, a juicy cheeseburger with real meat and cheese (I don't know why anyone thinks a McDonald's burger is anything to write home about. Yuck! Real meat and real cheese please!) accompanied with a serving of fries makes the perfect meal.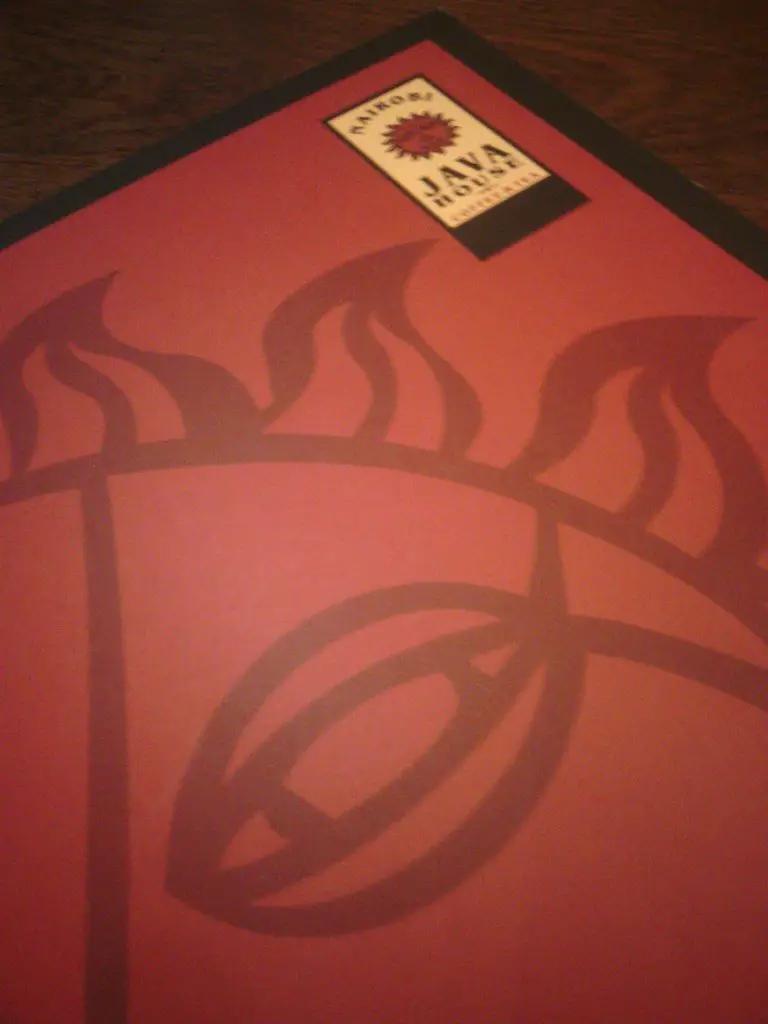 Very rarely do I find burgers noteworthy.
During the course of my lifetime, two burgers stand out for me.
The first is the cheeseburger served at The Hamburger House at Vallon in Abidjan, Côte d'Ivoire during the '80s and '90s (does anyone know if that still exists? Update: Apparently it does–check the link); the second is the juicy (meat-at-its-best) hamburger at The Carnivore in Nairobi (truly a delight for meat lovers).
That evening at Nairobi Java House, Adams Arcade, the Bens Burger became the third burger to join my burger A-list.
What's So Great about Java's Ben's Burger?
The Ben's Burger is a real gourmet's delight: great meat with a great sauce to go with it!
Biting down on a Ben's Burger, which can be quite a messy affair, offers a burst of pleasure with every bite.
As much as I love the Ben's Burger, I don't order it often because I am sure it is quite calorie laden (the woman in me does try to watch her figure).
Recently though, I ate at Nairobi Java House with someone who loved that burger as much as I do.
Discussing and tasting Ben's Burger again reminded me of just how great a burger it is. (Believe it or not, this friend has it with a double patty instead of a single one! How do men do it? 🙂 )
To sum it up, if you've never had a Ben's Burger before, you definitely need to try it out.
The next time you are at Nairobi Java House and trying to determine what to eat, just order a Ben's Burger.
I doubt you will regret it.
(Note: Burgers are not served at the Nairobi Java House on Mama Ngina Street so don't ask for it there.)
Let me know what you think of the Ben's Burger when you do try it.
While you're at it, why don't you also tell me about your favorite burgers?
I would love to know what other burgers I should be tasting.
I look forward to hearing what you have to say.
Until the next time,
Biche
READ ALSO: Ethiopian Coffee: Coffee with a Rich History
Photo Credits: Java House; dairyofayuma