A few months ago, on a cold rainy night in Nairobi, I met with an acquaintance for an evening that was supposed to end at the movies. Not in the mood for a movie though, we decided instead to go somewhere for dinner and drinks. My acquaintance suggested Azalea, where I had never been but had heard a lot about. Eager to try out a new place, I quickly agreed to that venue.
Nothing that I had been told about Azalea had prepared me for the wonderful place that I found it to be. Walking into Azalea for the first time, I felt the same way I had felt when I first walked into The Moonflower restaurant (Palacina) and Rudy's, namely, this must be one of Nairobi's best kept secrets. From the surroundings of each of these restaurants, it's hard to imagine that anything as quaint, beautiful, and charming as each of these places exists anywhere nearby.
Azalea was to me an unexpected oasis of beauty and charm. I loved the warm lighting and the pretty décor full of soft pastel colors. As any restaurant housed in a residential abode, Azalea has many different sections that serve different purposes. It has a small area that houses a bar. It has an interior dining section (with a fireplace I believe). Most prominent is a terrace area that is divided into both a dining area and a lounge area. Azalea also has an outside garden sitting area.
That night, my acquaintance and I sat in the outside dining section. Later, when the rain became too heavy for us to sit outside comfortably, we moved to the inside dining section for a nightcap. As soon as we sat at a table, the friendly service staff attended to us and we had our meals in no time. I ordered a prawn dish and I believe my acquaintance ordered some lamb. We both enjoyed our meals tremendously. Allow me to rave a bit about the prawn dish I ate that night. I am a great lover of seafood and order prawns often when I am dining. The prawns I had at Azalea that night were cooked most unusually and yet tasted fantastic. The prawns were cooked in a creamy sauce and served on a bed of roast potatoes. Potatoes are hardly the first thing that I think of to accompany prawns! Somehow, though, the combination was just right, dare I even say, perfect.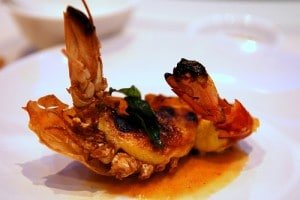 I have been to Azalea a number of times since that first night. I have gone there for drinks and, on another occasion, to have Sunday lunch. As a place at which to have drinks, Azalea has a well stocked bar and is simply a pretty place to be. As a lunchtime venue, the garden seating is unbeatable.
Azalea, however, is not inexpensive. The prawn dish I ate that first night cost Ksh.1100, while the Myer's Rum I drank that night sold at Ksh. 200 per tot. Still, if you have never been, Azalea is a place that you want to go to. It is located near Yaya, off Wood Avenue. (Directions: coming from Yaya headed to Lavington on Argwings Kodhek, turn on your first left, onto Wood Avenue, and then turn on your first right, onto Komo Lane. Azalea is a short distance from the intersection, on your right hand side. It is clearly demarcated and hard to miss).
I have nothing but good things to say about Azalea and I think it must be one of my best recent finds. If ever you are in the mood for something fine and cozy, please give it a try.
Let me know what you think when you do.
Until the next time,
Biche
P.S. If you are interested in reading another review of Azalea, please click here.
Photo Credits: Minerva Bloom; TummyRumble