Absolute Juice
2nd Floor
Yaya Centre
Tel: +254-20-201037
www.absolute-juice.com
Update: Absolute Juice can now be found at the Food Loft on Yaya Centre's 2nd floor.
Aren't you guys really impressed with how Yaya Centre is reinventing itself?
Frankly, I am.
Every time I go to Yaya, there's something new to see and contemplate.
I was recently surprised to see that Yaya Centre even has its very own Java.
I am not sure how Dormans and Java manage to coexist so close to each other, but that's for them to worry about while I get the pleasure of enjoying both coffee houses at a place so convenient to me. 🙂
Although a lot of the changes that have taken place at Yaya are quite superficial, some of the changes are not superficial at all.
Take, for instance, the opening of what seems to be a whole new wing on the second floor.
You know the one that houses the gym, and the children's play area?
Yep, where did that come from? Is that where the Indian restaurant Minar used to be located?
Well, not only does this area house a gym and a play area, this new wing also houses a great new eatery called Absolute Juice.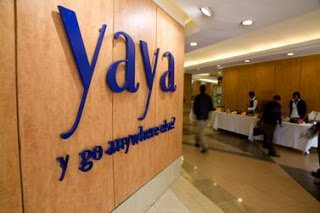 Fresh Juices & More
Absolute Juice specializes in fresh fruit and vegetable juices as well as other healthy foods.
By that, I don't mean the disgusting stuff that's normally fed to you in the name of it being healthy. I am referring to delicious drinks and food that are healthier versions of regular favorites.
Recently, I met up with some childhood friends at Absolute Juice for lunch.
I was very impressed.
I had a Ham and Cheese sandwich, while they both had a Chicken Salad.
The Ham and Cheese was very, very good and fared well in comparison to a Ham and Cheese sandwich that I had had at Java the previous day (we all know how good Java food is! 🙂 ).
The only difference was that this sandwich was also full of vegetables.
I am not a fan of vegetables (there I said it!) but this sandwich was scrumptious!
The Chicken Salad that my friends had was also very good.
Unlike other Chicken Salads that are overloaded with mayonnaise, this Chicken Salad had lots of chicken and lots of interesting vegetables such as different colored peppers.
Not only was the salad delicious but also pretty to look at.
The Juices
How can I talk about Absolute Juice without mentioning their specialty…juices?
The juices served at Absolute Juice are as fresh and refreshing as they come.
That day, we all opted to have the cocktail of the day, Strawberry Burst.
This cocktail was a mix of strawberry juice, mango juice, and a citrus juice that I can no longer recall.
It was outstanding!
Along with a wide variety of fruit and vegetable juices (and cocktails), Absolute Juice also serves smoothies.
I am not a fan of smoothies so I cannot vouch for them personally, but let me just tell you that I have a friend whose favorite request whenever I'm visiting her is that I pass by Yaya to get her a smoothie called Sunlight something or other.
It's a constant craving!
If you haven't been to Absolute Juice before, pass by the next time you are at Yaya and in need of refreshment.
I am sure you will be pleased.
Let me know what you think when you do.
Until the next time,
Biche
P.S. To be sure not to miss future posts on ChickAboutTown, sign up to receive posts directly by email.
Photo Credit: Wikipedia;